Major Stryd Update: New Power-Based Training Plans & Environmental Power for Apple Watch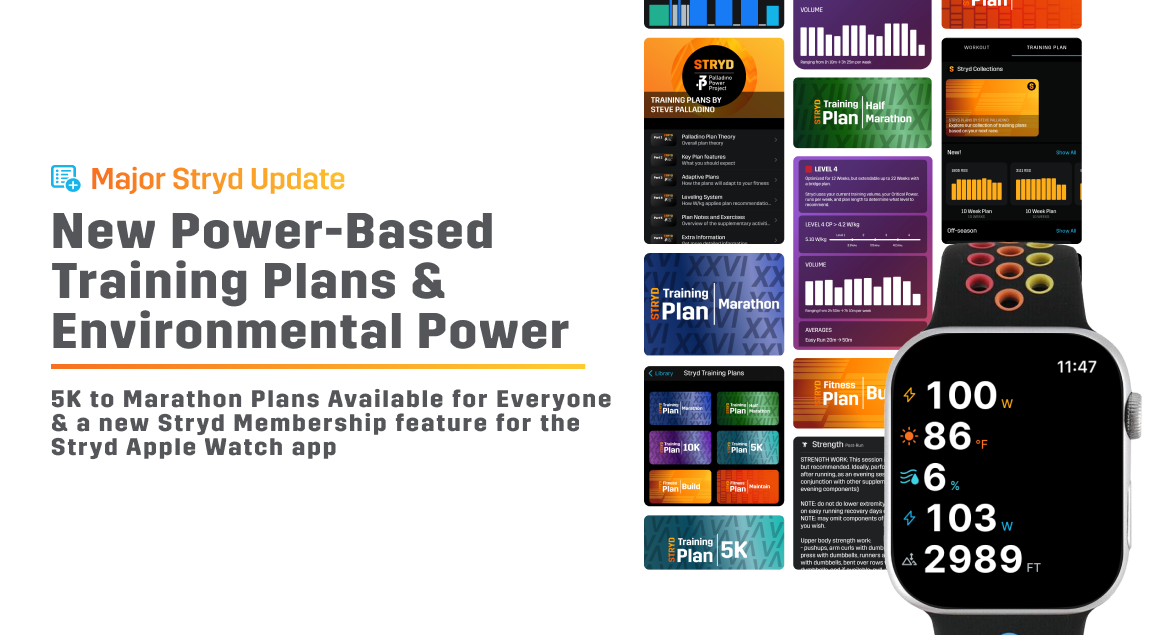 We're thrilled to announce one of the most significant updates to the Stryd ecosystem yet!

Introducing our new 5K to Marathon plans, available for all Stryd users, designed to equip you with the tools needed to shatter personal records, confidently boost your mileage, recover efficiently from races, maintain top fitness levels, and accurately track your progress.

Additionally, for our valued Stryd Membership users, we're unveiling a revolutionary update that brings real-time heat-adjusted, humidity-adjusted, and elevation-adjusted power to Stryd's Apple Watch App, as an open beta. This innovative feature empowers you to adapt your running intensity based on the ever-changing environmental conditions.

With this update, you'll benefit from focused training and precision pacing, even in the most challenging environments. Embrace the advantages of accurate pacing and purposeful training, and witness your progress skyrocket as you master every power-based run.
---
The first update is coming to all Stryders:

New 5K to Marathon Plans built in partnership with Coach Steve Palladino, founder of the Palladino Power Project

No matter your skill level – from beginner to advanced – our new training plans cater to your unique needs. Prepare to surpass your personal bests, confidently increase your mileage, bounce back from races, maintain peak fitness, and accurately assess your progress.
The new plans are built to be combined for seamless transitions. Begin with a build plan to establish your foundation, progress to a race plan to conquer your next personal best, shift to a maintenance plan to preserve your improvements, and then repeat the cycle to continuously elevate your fitness to new heights.
---

The second update is coming to Stryd Membership users:

Real Time Environmental Power on the Stryd Apple Watch app.

By adapting your pace to real-time environmental conditions, you'll unlock the ability to master even pacing. Elevate your running experience and take your endurance to new heights with the unparalleled pacing-precision of this new update to Stryd's Apple Watch App, as an open beta.
This innovative update allows you to perform at your best everywhere, everyday. Whether you find yourself running in a new location due to travel or the seasons are changing around you, you can pace your run to perfectly match the environment you may find yourself in.
---

With these two new breakthrough features, you can confidently conquer challenging conditions while staying focused on your training goals.

This update is a game-changer, providing the edge you need to thrive as a runner in any environment. Equip yourself with Stryd to pace with unparalleled accuracy, enabling you to optimize your performance, adapt to difficult surroundings, and push your limits as a runner!