New 5K to Marathon Training Plans to Build Fitness, Maintain Your Improvements, and Race Your Best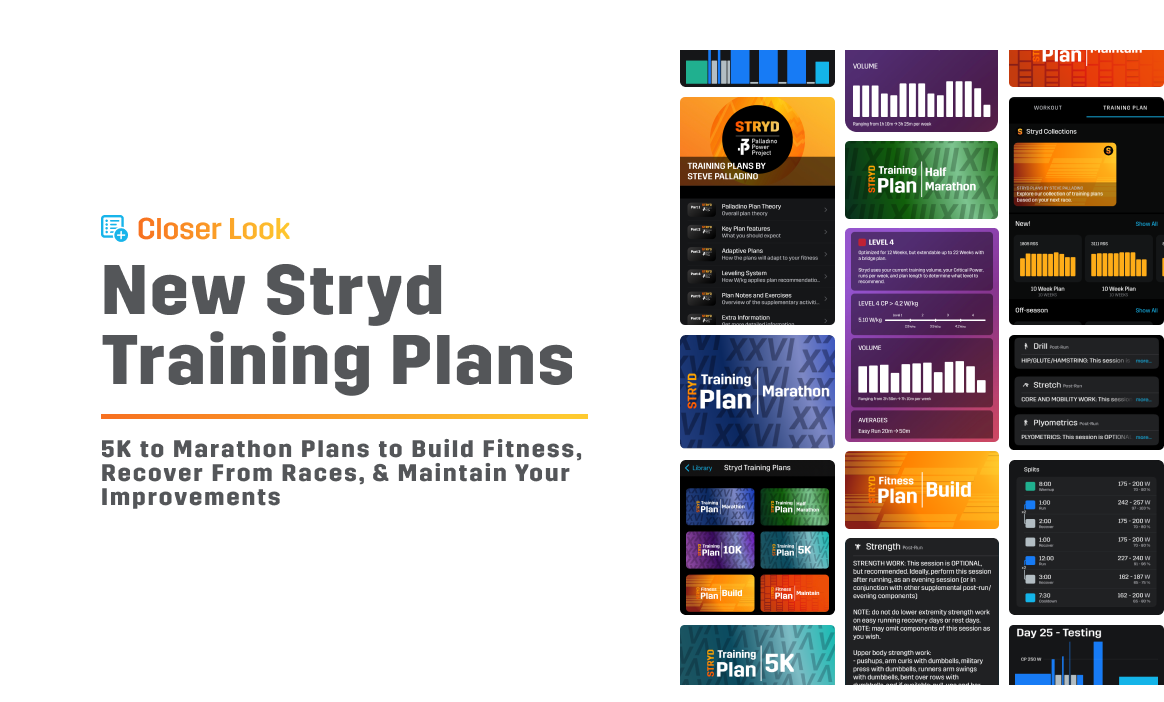 Today, we are introducing our groundbreaking 5k to Marathon power-based training plans, designed to transform your running journey and propel you towards becoming a faster, healthier endurance runner.

These cutting-edge plans elevate the power-based running experience with Stryd, offering the most comprehensive and effective training programs on the market.

No matter your skill level – from beginner to advanced – our meticulously designed training plans cater to your unique needs. Prepare to surpass your personal bests, confidently increase your mileage, bounce back from races, maintain peak fitness, and accurately assess your progress.
---
Here is a high level overview of the new training plans available in this update!

NEW Race Plans: Methodically build your fitness for your best A race ever

NEW Build Plans: Build your speed and volume for your strongest base yet before your next race

NEW Maintenance Plans: Maintain your hard-earned fitness gains until you are ready for your next goal

NEW Testing Plans: Drop your race prediction times and boost your training zones with periodic testing plans

NEW Leveling System: Find your perfect plan, whether you are a beginner looking to ease into training with low mileage to an expert looking for challenging training with high mileage

NEW Supplemental Training for Performance & Recovery: featuring optional non-running exercises to increase injury resistance and help you become a better athlete.
---

These plans were designed in partnership with coach Steve Palladino, founder of the Palladino Power Project, to empower your training with the knowledge of one of the leading minds in the world of running power.

All Stryders are receiving access to these new plans today.

Let's take a deeper look at the details of these plans to get you ready for your best training cycle ever!
---

New Race Plans: How will the race plans methodically increase my fitness for my A race?

The new 5K, 10K, Half Marathon, and Full Marathon plans combine foundational training practices to gradually build your fitness along with special runs to optimize your Stryd profile for the most accurate training zones and racing plans.

The plans build your fitness with steady increases to training volume and intensity. Power will guide you every step of the way so you can execute every run to perfection for your most successful training block ever.

They also feature periodic testing to optimize your Stryd profile to keep your auto-calculated Critical Power up to date for accurate training zones and the ideal runs so you get accurate race planning from Stryd's Race Power Calculator and Race Calculations Table.

You get the trifecta of steady build, optimized training zones, and comprehensive race planning with these new training plans for your best lead up to a race ever!
---

New Build Plans: How will these plans build my base before I am ready for my next race?

Elevate your stamina and performance to new heights in the off-season with the new Build Plans!

These new Build Plans are the perfect way to build your fitness and offer a perfect hand-off to race-specific training. They can also be used to build fitness from a relatively lower volume / lower fitness state to a relatively seamless hand-off to a race-specific training plan for the same "Level".

These plans also feature periodic testing to fill in your Power Duration Curve with the ideal runs so you get an accurate Critical Power to assist with race planning to understand your capabilities before you prepare for your next race.
---

New Supplemental Training: How does supplemental training help me become a stronger, faster runner?

Elevate your running performance and unlock potential as an endurance runner with our strategically designed supplemental training activities, to be completed before and after your runs. These workouts are tailored to increase injury resistance, enhance running efficiency, and speed up recovery, empowering you to become a faster, healthier runner.

Our carefully crafted exercises target key muscle groups such as the hips, glutes, and hamstrings, while incorporating strength training to boost lean muscle tone. We also include stretches to stabilize your running form and mobility work to aid recovery. Plyometrics are integrated to refine your running mechanics, enabling you to reach new heights and conquer new personal bests with ease.

Our supplemental training prescriptions are meticulously sequenced to optimize your progress. You will find easy run days are intentionally light to optimize full recovery, and high-load run days are purposely heavier with supplemental work, ensuring a balanced approach to your training and the achievement of your ambitious running goals.
---

New Maintenance Plans: How should I maintain my fitness in my off season?

Discover the key to sustaining your hard-earned fitness with the Maintenance Plans, designed to effectively maintain your aerobic fitness, endurance, Critical Power, and neuromuscular strength. These plans enable a smooth transition to race-specific training programs, ensuring you stay on track to becoming a faster, healthier runner.

Our Maintenance Plans act as an essential bridge between your race-specific training programs, preserving a solid fitness baseline that aligns with your desired performance level.

With mid-plan and end-of-plan assessments, we'll help you maintain an optimized Stryd power-duration curve and an accurate Critical Power estimate, crucial components for unlocking your true potential as an endurance runner.

Embrace the journey to peak performance with our Maintenance Plans, and confidently stride toward your next race-specific training plan with a strong foundation of fitness and endurance.
---

New Testing Plans: How can I optimize my Stryd profile for more accurate training zones and racing predictions?

Unlock your potential with the new Testing Plan! These new plans are designed to optimize your Power Duration Curve and ensure your Critical Power remains accurate before starting a new training plan.

It is the perfect time to use one of these plans if you haven't raced or tested within the past 4-6 weeks, but have a reasonable level of running fitness.

By refining your Critical Power through the new Testing Plan, you'll be primed to start your next training cycle with confidence, precision, and purpose.
---
New Leveling System: Plans for runners of all levels

The new training plan ecosystem features a leveling system that gives a tailored plan to runners of all levels. All runners, from new runners who want to start with low mileage to advanced runners who wish to train a higher volume, will find their perfect plan in the Stryd ecosystem.

Let's take a closer look at the four levels of training plans offered:
Level 1: For beginners running lower weekly volume or individuals that need to take it easy on their body.
Level 2: For beginners who have a few seasons of training and race experience.
Level 3: For runners who have trained and raced for a while.
Level 4: For more experienced runners who also wish to train at a higher weekly volume.
Stryd has the training plan for where you are at right now and for what you are hoping to accomplish next.
---
Access The New Plans Today!

These new training plans are available today for all Stryd users.

Please update to the latest version of the Stryd iOS (> v8.0)  or Android app (> v8.12.23) and you will be able to add one of these new training plans to your calendar.
---
Start Your Ultimate Training Season Today

Embark on the ultimate run training season with our meticulously designed plans, tailored to propel you towards record-breaking performance!

The new plans are built to be combined for seamless transitions. Begin with a build plan to establish your foundation, progress to a race plan to conquer your next personal best, shift to a maintenance plan to preserve your improvements, and then repeat the cycle to continuously elevate your fitness to new heights.

All Stryders gain access to these innovative plans today. Add one of our new plans to your calendar and begin your next training journey today!