Watts That Won: Jake Suss Smashes His PR and Wins the Hilton Head Marathon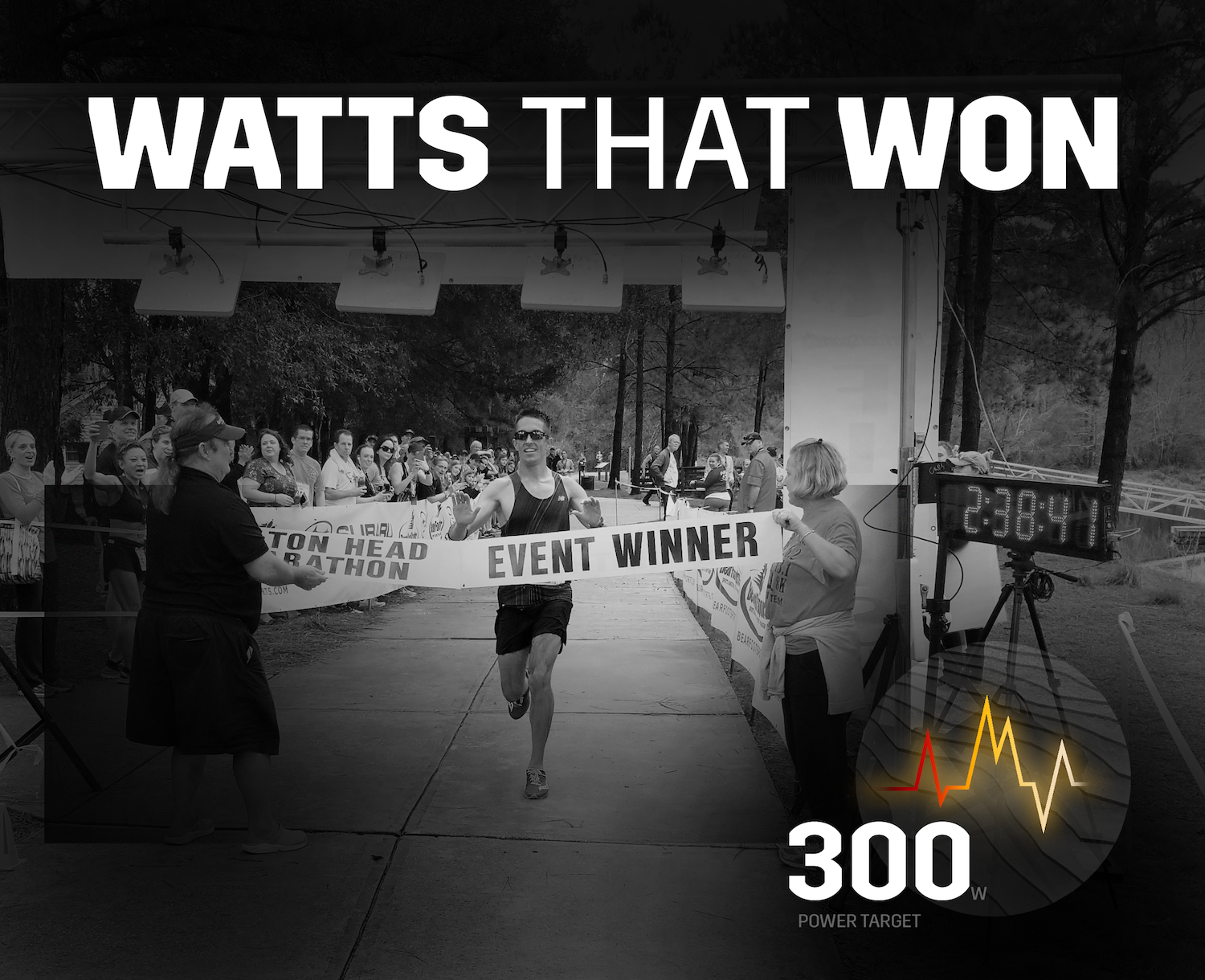 Jake Suss knows how to pace hills. Last time we talked to him, Jake had just run Air Force marathon in 2:43, with an average wattage of 295. He used the real-time Stryd power metric to pace the first hill and ended up passing some of his competitors later in the race.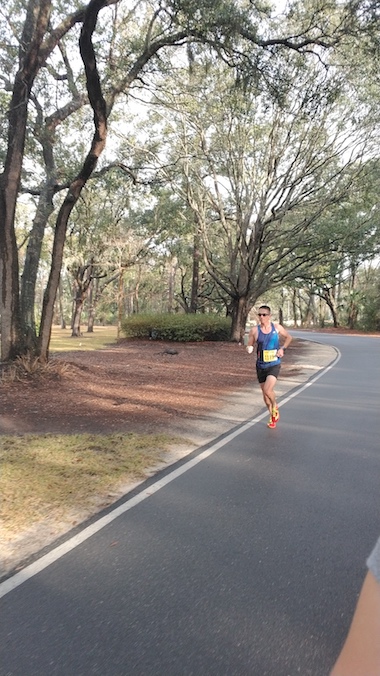 Adjusting Training To Get To The Next Level
After the Air Force Marathoon, Jake wanted make some specific changes to his training in order to lower his marathon PB and become a better runner. He increased his weekly mileage from 70-80 miles per week pre-Air Force MArathon to 80-90 miles per week, while still giving himself a full day of rest and recovery. That meant he would need double almost every day--not an easy task for an active duty Air Force Officer.
A normal week featured a longer or quality session in the morning followed by an easy treadmill run at lunch. On Saturdays, Jake ran long and included some faster work within the longer runs.
Jake also focused more on marathon specific pace and threshold runs, rather than V02 max runs.
In addition to his volume and quality changes to his training, Jake doubled down on digging into the data. Jake also coaches athletes in the Pheonix area, and uses the WKO4 platform frequently.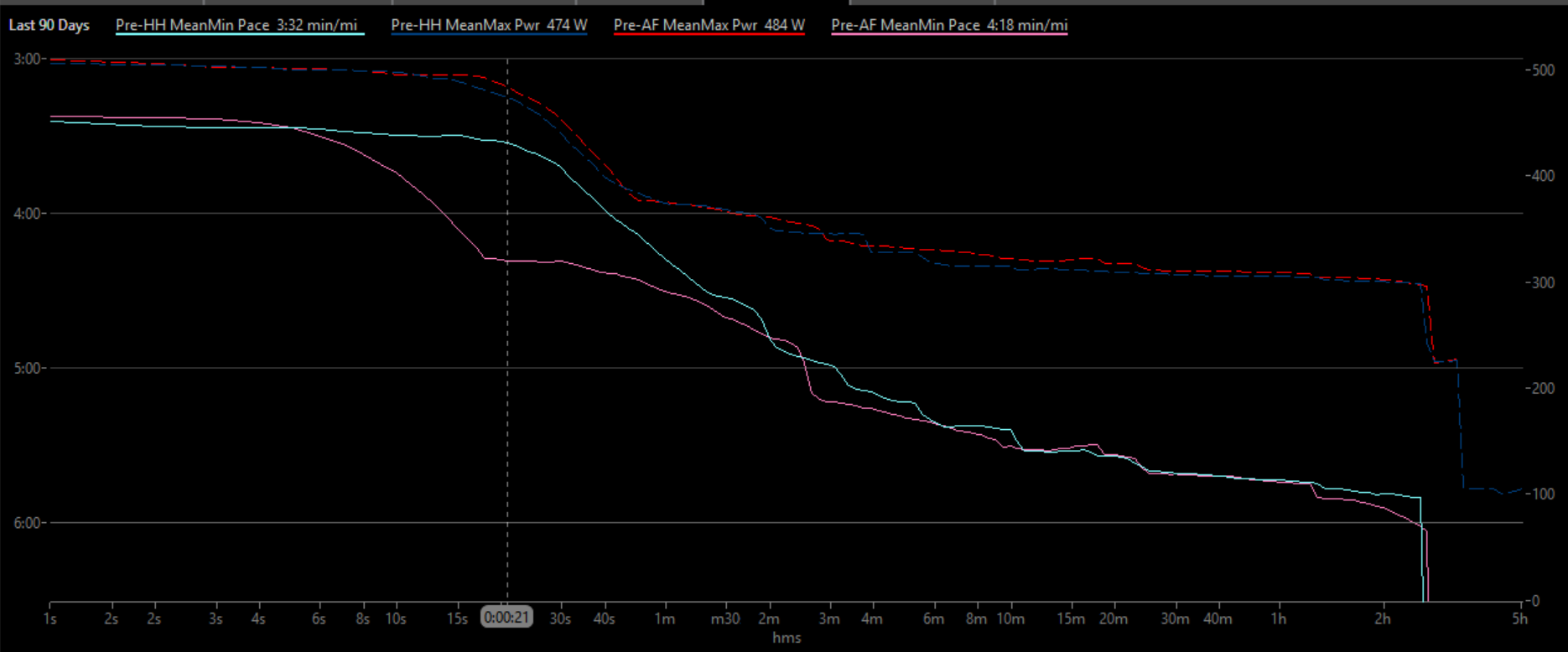 The above chart compares the 90 days before and including both the Hilton Head Marathon and the AF Marathon. Although the max powers for each given duration were fairly consistent, I was significantly faster at those given powers in my recent training. So that's one reason why I'm surmising that I got more efficient.
Jake's hypothesis would be certainly be put to the test on race day.
Training Leading Up to Race Day
After several productive months of training, Jake began to see real changes in his running efficiency, a promising sign ahead of the Hilton Head Marathon.
A tune up Half Marathon in Pheonix confirmed the data. He raced the half marathon at marathon pace and finished in 1:17:30 (5:54 pace) and averaged 330 watts. He finished feeling strong, wondering why he couldn't just run the next 13.1 miles then and there.
A week before the race, he did the same pre-race speed sessions as he did prior to the Air Force Marathon: 3 x 1k.

Jake noticed his 1k repeats were faster than his previous workout, and he was putting out less power to produce that faster speed. He had become more efficient, and this was a huge confidence booster heading into race day.
Race Day
Jake knew he didn't want to go out too fast, as he had in the Air Force Marathon. He was able to hang on for a good result there, but he knew with proper pacing based on his power-based training, he could definitely hit his personal best and maybe even win the race.
"My plan was very simple," Jake said, "Don't go crazy in the first mile and hold 300 watts all the way through the tape."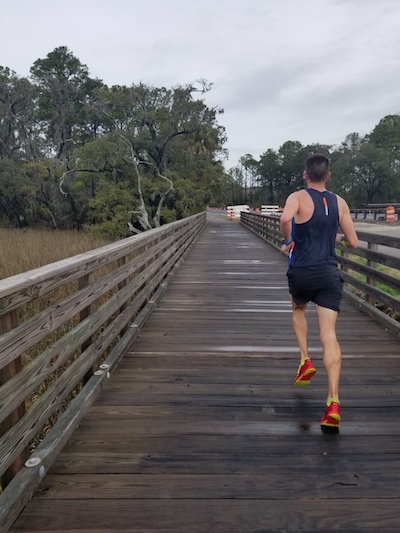 In an earily similar manner to Joseph Gray, who recently qualified for the PanAmerican Cross Country Championships, Jake executed his race plan perfectly. His first mile was 5:55 but below 300 watts. It became clear early on that Jake would be in a position to win if he kept up his initial pace. There were some small hills interspersed in the course, and Jake made sure to stay at his target wattage. Jake was clear of the competition by the half marathon mark. It was all up to Jake and his watts.
Jake felt strong in the last 5k and began to increase the pace. He ran his last mile in 5:45 and punched through the tape in a massive PR: 2:38:41. His average pace: 6:00. His average watts: 300. Paced to perfection.
Watts That Won = 300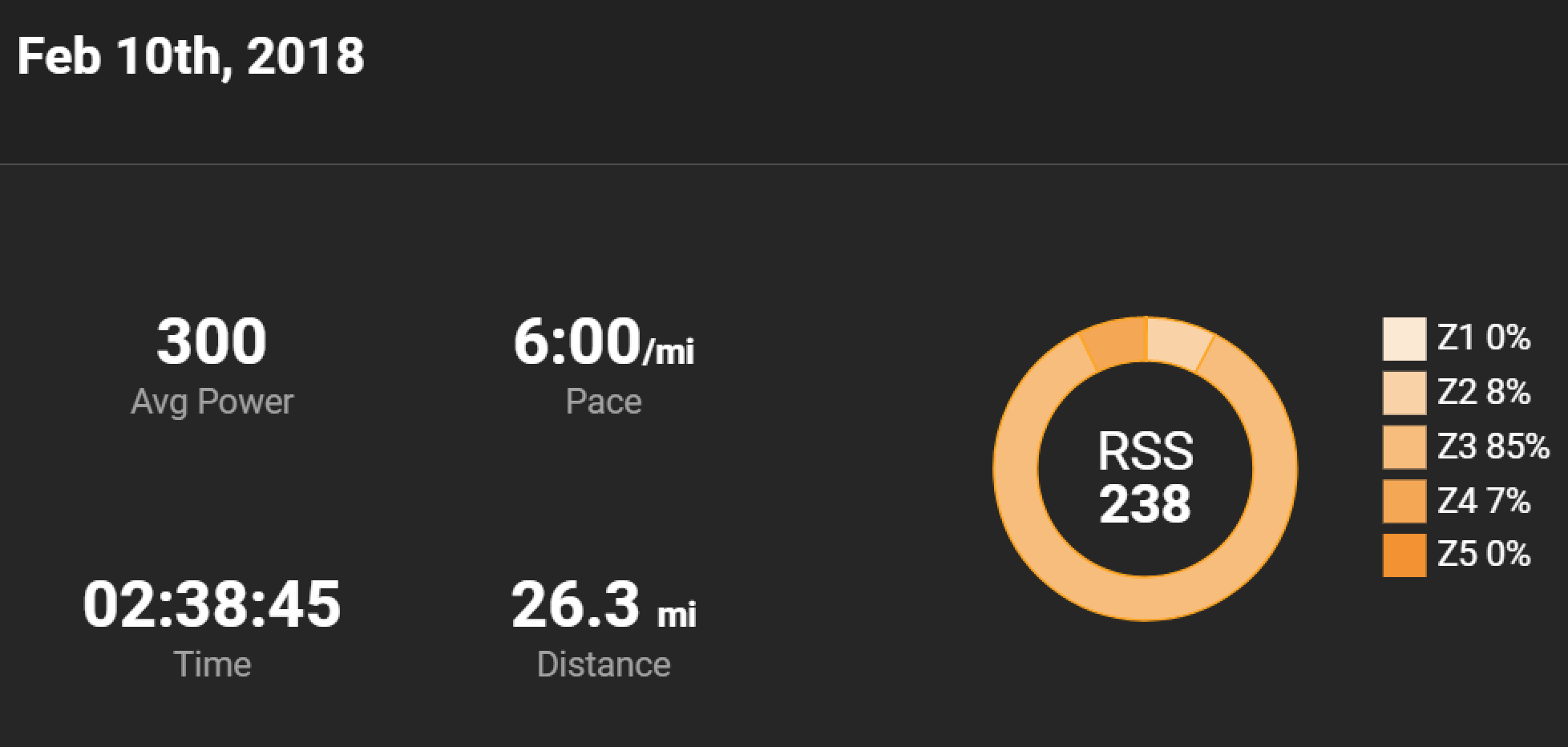 What's Next for Jake?
Jake is already looking towards his next challange. He wants to get even faster. His eyes are on the Marine Corps Marathon in Washington, D.C. He wants to be the top finished in the Armed Forces Division. We are all pulling for you, Jake!