Executing The Race Plan: Joe Gray Earns a Spot to the PanAmerican XC Championships
Joe Gray had this weekend circled on the calendar. He was facing legends of the sport—Olympic medalist Galen Rupp, Evan Jager, and his teammate Leonard Korir, among others. The goal: top 15, which would earn him a ticket to El Salvador to represent the United States at the PanAmerican Cross Country Championships.
The Plan
Coming off of his successful trail and mountain running season, Joe knew he didn't have the pure speed to compete with some of his competition. To make matters worse, the course did not play to Joe's advantage. The course was essentially flat with very few obstacles. Neither of these factors matter mattered much to Joe. It was a race, and he was going to compete. He knew his optimal power for a half marathon but had to adjust that number for the distance of the race (10k).
"A 10k requires a lot more power at the end of the race," Joe said in a post-race interview, "The last thing you want to have happen is to have your power drop off in the last 3k."
Joe decided on a very simple race plan to accompany the simplicity of the course. Get out with the front pack, tuck in, and conserve as much energy as possible. Then start increasing his effort accross the last 4k. He knew if he was in or near the top 15 with 4k to go, he would be in a position to achieve his goal.
The Race
When the gun went off, Joe stuck to the plan. He tucked in behind Galen Rupp and his teammate Leonard Korir, and focused on maintaing a constant power output every 400m. A quick check at his Stryd Power, and he knew he was on track. The lead pack stayed intact until 6k, just as Joe had predicted. When the pack separated, Joe focused on maintaining and slightly elevating his power output. He did not want to go too early, and risk blowing up in the last 3k.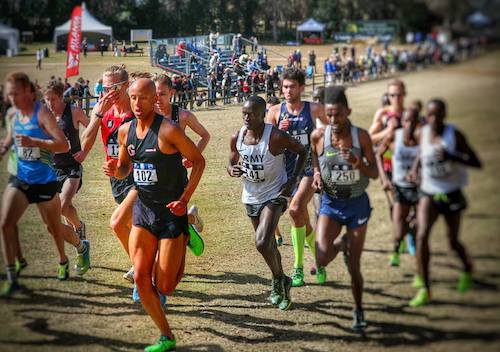 "In the last 700-800 meters, I went by 3 or 4 guys, and I knew I was in the top 15," Joe said. "As I increased my speed, I actually felt better, and there was no way I could have done that without consistant pacing earlier in the race."
Joe finished in 11th, well under his goal of top 15, and punched his ticket to El Savador.
Joe was able to adjust his race strategy to the 10k distance using metrics from Stryd, and execute his race strategy to perfection. Now we'd like to see Galen Rupp and Evan Jager race Joe in a mountain race :).
Next up, Joe will represent the United States this weekend in El Salvador.
Remember to follow Joe on Instagram.
The 2018 race season is underway! Make sure to share your latest result in the Stryd Community.