Compatibility Update: COROS Provides Full Next Gen Stryd Metric Support!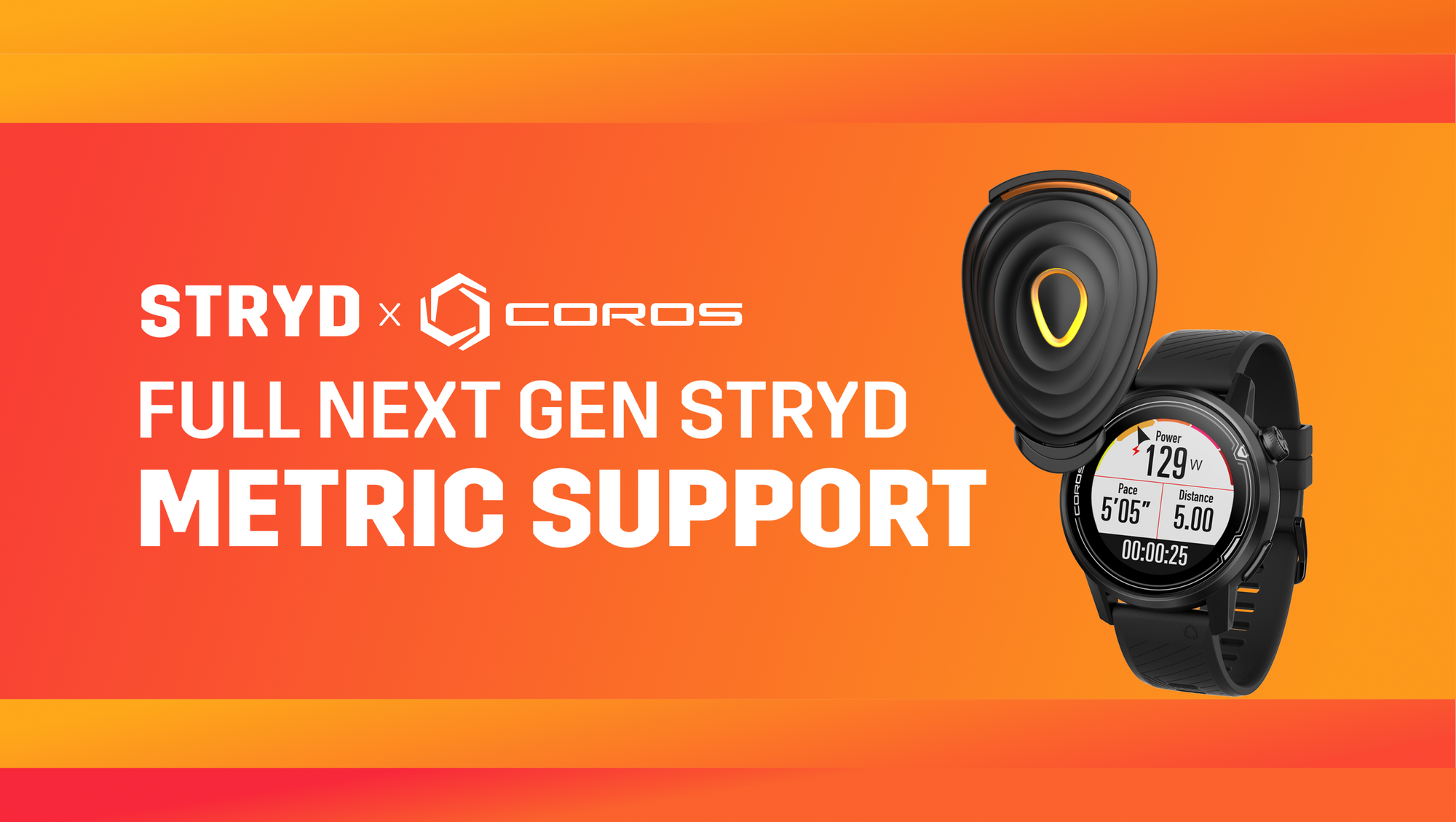 Today, we are thrilled to announce that COROS watches will now collect all the data from the Next Gen Stryd so you can view both:
Impact Loading Rate
Lower Body Stress Scores
You can now collect Stryd's new "Impact Loading Rate'' metric using your COROS watch and view it in your COROS app after every run. Plus, you can use the pre-existing platform sync to transfer your data and view your "Lower Body Stress Score" in the Stryd app.

Let's review the benefits of these new metrics, explore how they can help keep you healthy, and show where to find them in the COROS app & Stryd ecosystem.
---

New Metrics to Track Your Lower Body Stress, Dial in Your Recovery, and Sustain Your Performance.

The Next Gen Stryd introduces two new metrics that track your lower body stress, allowing you to dial in your recovery and stay at the top of your game.

Impact Loading Rate (ILR) captures how quickly your body is absorbing force when your foot comes in contact with the ground. Learning how to manage situations that subject the body to high ILR, such as downhill running and running at high speeds, is the key to optimizing your recovery.

Lower Body Stress Score (LBSS) in turn is a reflection of the mechanical load applied to the lower body over time. LBSS uses your second by second Impact Loading Rate to calculate a single number to quantify the total mechanical load.

LBSS is helpful in the same way that Running Stress Score is helpful. Both scores use an average computed over the previous week to generate a moving baseline. Similar to how running an hour at your Critical Power will accumulate 100 RSS points, running at your Critical Impact for one hour will accumulate 100 LBSS. From this a single number is generated that can give you further insight into training intensity.

Learn more about Impact Loading Rate and Lower Body Stress Scores Here >>
---
Next Gen Stryd support is available on COROS
COROS is adding Next Gen Stryd support to their most popular sportswatches including:
Vertix 2, Apex 2, and Apex 2 Pro updates available today. Apex Pro, Vertix 1, and Pace 2 updates will be available on August 28th.
All of these watches provide complete support of the Next Gen Stryd metrics.
Here are the steps to view these additional metrics:
1. Update the firmware on your COROS > Click Here for Instructions
2. Go for your run with COROS and the Next Gen Stryd
3. Sync your watch with the COROS app. Impact Loading Rate will be visible in the post-run screen in the COROS app.

4. Once your data transfers from COROS to Stryd, Lower Body Stress Score will be visible in the "Summary" tab in the Stryd app and PowerCenter.

Note: For anyone running with a Garmin, Polar, Suunto, or Apple Watch, your past activities with the Next Gen Stryd already recorded Impact Loading Rate and Lower Body Stress Scores.
---
Thank you COROS, from the Stryd Community!
We want to give a big thank you on behalf of our COROS Stryders for this firmware update.
COROS's support of collecting Impact Loading Rate and Lower Body Stress Scores means that Stryders can hone in on their recovery, monitor their overuse, and better prepare for an upcoming fall racing season ahead.
---
Getting Started:
If you already own a COROS watch but do not yet have Stryd, you can order Stryd here: Visit the Stryd store >
If you already own a COROS watch & Stryd, please see our knowledge base to get started: Visit the Stryd knowledge base >
If you would like to purchase a COROS watch, you should visit COROS website here for purchasing options: Visit the COROS online store >