How to Perfectly Pace Your Next Race with Race Power Calculator + Boston Preview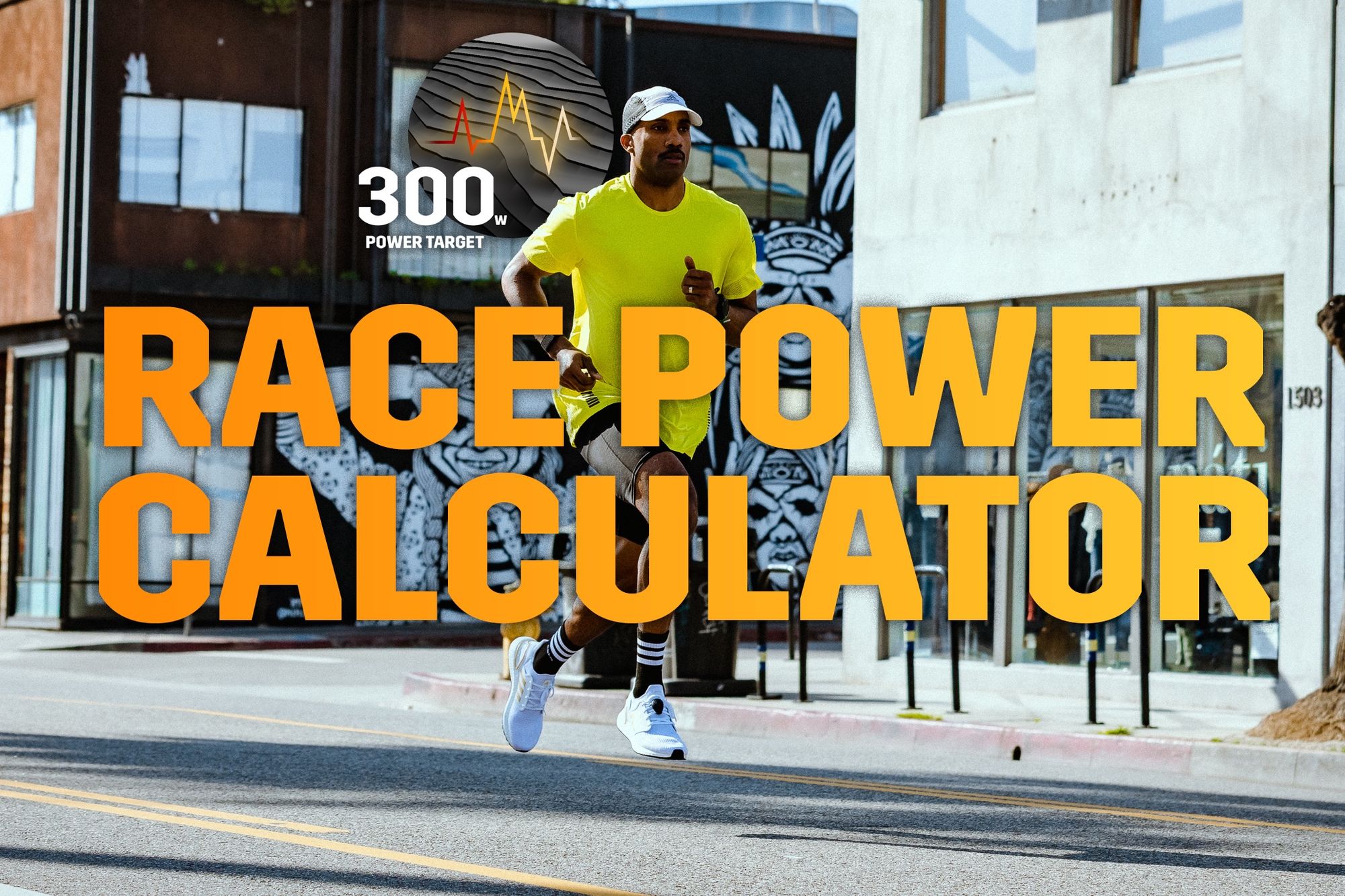 Today, we are going to review one of the most powerful features of the Stryd ecosystem: the Race Power Calculator.
Race Power Calculator is one of the most advanced race prediction tools available to runners. It enables you plan for the exact challenges you expect to see on race day and see how your performance translates into a finishing time.

Here are some of the factors Race Power Calculator considers:
Race Course: to account for the distance and elevation profile
Environmental Factors: to account for temperature, humidity, elevation, and their effects on your performance
Your Stryd Profile: Your Critical Power and Power Duration Curve is used to determine your capability on race day
When you can account for these critical factors, you step up to the starting line with confidence that you will run your fastest with the guidance of power and that you are running to the best of your ability.
To demonstrate the powerful uses of this tool, we are also going to preview one of the most well known race courses in the world: the Boston Marathon.
Let's take a deeper look at how the Race Power Calculator can help you perfectly pace your next race and how it can help you prepare for a race like Boston!
---

Personalized & continually updating to your capabilities

Stryd's race power calculation analyzes all of you training data from the last 90 days to tell you how that training translates into a race performance. It uses your Critical Power, your runner type, and your ability to turn power into speed, to tell you how your capabilities translate to racing performance.
The prediction is also dynamic! Whenever you log a new best effort, you tell the race power calculation that you are capable of more than you previously were. This will result in an upward adjustment of your power target and a lower predicted finish time. You will know whenever you log a difference-making workout when you see your predicted times drops.
Be sure to check out and fulfill the requirements for an accurate race prediction as you prepare for your next race!
Click here for the requirements for an accurate race prediction >
---

Select among the preloaded courses or upload your own

You can upload your course or select among popular courses to build your race plan.
Here are the preloaded courses you can select from in the calculator: Boston, Berlin, Columbus, Frankfurt, Houston, London, Los Angeles, New York City, and Tokyo Marathons & the New York City Half Marathon.
You can upload your own race course! All you need is a past activity file from any run on that course or you can grab a copy of the course from a race planning website. Stryd's race power calculation will analyze your race course to determine how the elevation and distance impact your expected finishing time.
---

Account for the environmental conditions

Stryd quantifies your typical training conditions from the last 90 days. If you are racing in the same conditions you trained in, you are good to go. No adjustments are necessary.
But, if you are racing in conditions outside of your normal training conditions, your ability to produce running power will be affected.
You need to input the conditions you expect on race day and you will receive a power target that factors in those conditions.
This simple step ensures you do not overstep your capabilities in hot conditions and do not leave anything on the table when the conditions are optimal for racing!
Stryd's race power calculation will give you a bump in your power target when you travel to race at a lower altitude! On the flip side, you will receive a lower power target when traveling to a higher altitude so that you do not outrun your capability when you race at altitude.
---

Fine tune your plan

While Race Power Calculator can account for many of the primary factors that will determine your performance on race day, you may need to fine tune your plan in some cases.
For example, if you prefer to take a more conservative or aggressive approach on race day to reach a certain time goal, you can bump up or down Race Power Calculator's suggested power target to see how the change in power will be reflected in your finishing time.
---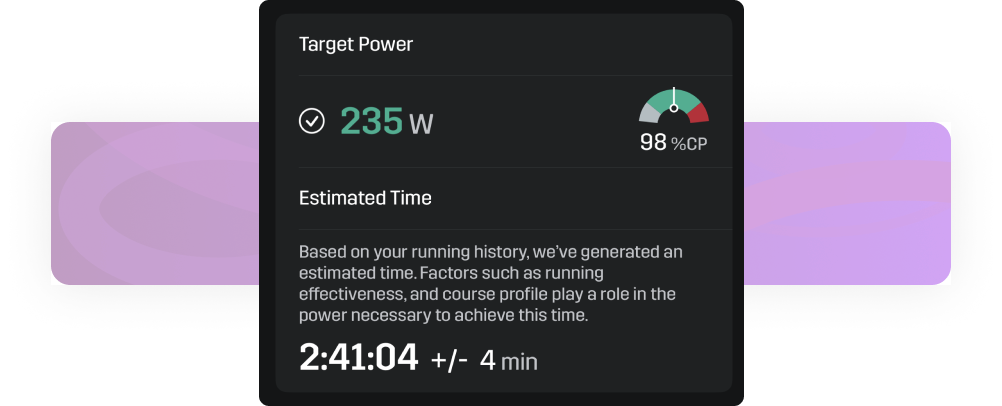 Simulate your race before the big day

Now that you have your race plan, it is time to try it out before the big day!
A quick race simulation is beneficial in many ways because it enables you to:
test out the target and get a sense of how the intensity feels
ensure your setup on sportswatch (or other device you will use to guide and record your race) is correct
pick a course that closely matches the expected conditions you expect to see so you can test your power target over hills and on similar surface conditions
You should aim to only run a few miles at your race intensity to get a feel for the target. Be sure that you do not burn yourself out ahead of race day!
If you are racing at a lower elevation and have a higher power target, you should test out your power target to ensure that you can handle the higher leg speed required to run at that target.
---

Race predictions for everyone with the Race Power Calculations table

Don't have the Stryd Membership yet?
You can still plan for your next race with power by monitoring the Race Power Calculations table in the Stryd mobile app.
This feature makes it convenient to monitor how your fitness is improving as you progress through your training plan. Your race power table will update every time Stryd detects an improvement in your race day capabilities.
You will know the  power values you should target in order to have your best performance when race day comes.
---

Boston Marathon Preview

Race Power Calculator makes it exceptionally easy to plan for major marathons like the Boston Marathon.
In just a few taps, you can select the built-in Boston Marathon course, input the expected temperature and humidity on race days, and receive your fully customized race plan with your power target and expected finish time.
This is a fun exercise to try even if you are not running the race. You can see the impact of how the hills and Spring weather will have on your expected finishing time.
Scroll down and tap the video below to see the Race Power Calculator preview the Boston Marathon course!
---

Boston Race Strategy Workout

Within the new Race Strategy Collection in the Stryd mobile app, you will find a new workout called Boston Marathon Pacing.
This workout features a customized power-based racing strategy that will have you start off the race conservatively on the downhills and then ramp up your power targets as you reach the hills later in the race.
This is a great strategy if you have more confidence in your uphill running skills than your downhills and want to take a conservative start to the race.
---
Join the Race Power Calculator demo & a special Boston race course preview
---

Upgrade to the Stryd Membership

Are you ready to plan for your best race?
Upgrade to the Stryd Membership for full access to the Race Power Calculator. Your last 90 days of Stryd data will be used to determine your prediction so you can immediately get guidance for your next race!