New Stryd Apple Watch App Update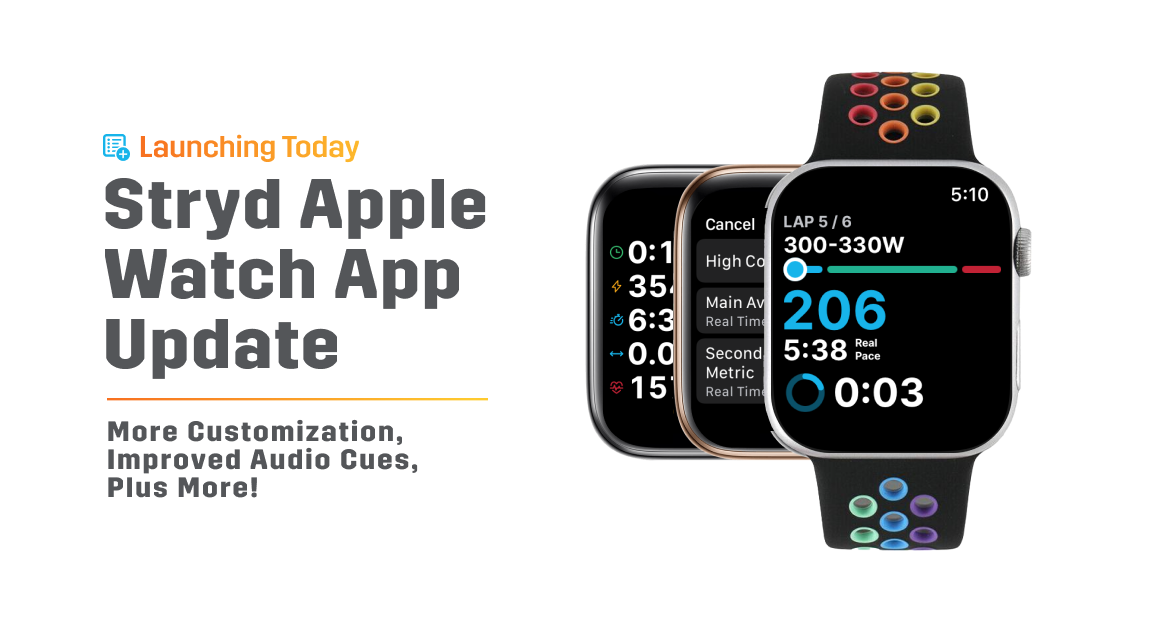 Today, we are releasing an update to the Stryd Apple Watch app. Your feedback drove this release and brings customization options to refine the running with power experience on Apple Watch!

Here are the highlights of the new release:
New Customization Options: Customize the workout screen to your liking
Improved Audio Cues: Improved speech annunciation and pacing to make eyes-free training easier
Lap Summary Cue: Added lap summary speech cue for normal run mode to keep you on track
Easier to Read: New font is easier to read so you can get the info you need in a glance
See Your Data Easier: High contrast mode makes viewing your running power easier
New Power Averaging: Change the power averaging setting on the workout screen to fit your needs
More Data: View a secondary metric on your workout screen to view more critical data
Let's dive into the features.
---
New: Your Power Is Easier to View with New Customization Options

New: High Contrast Mode

High contrast mode makes it easy to view your real-time power output! The main power averaging value color will match the target indicator color you see in the workout target bar to add contrast to the background.

The colored text also doubles as a target indicator. Your power value will be blue if you are under target, green if you are in the target range, and red if you are above target.

New: Power Averaging Option

Now, you can change the power averaging that you see on the main display.

Choose from the following options:
Real time power
3-second power
10-second power
30-second power
Lap power
Overall power
You will want to choose the value that makes the most sense for your workout for the best experience. Steady-state workouts can benefit from a longer average and interval sessions can benefit from a shorter average.

View More Data With A Secondary Metric

Do you need more than a power value to guide your run? Now, you have the ability to enable a secondary metric to show on the workout screen underneath your power value. You can choose between any of the metrics that we have available in the 'free run' mode. Some popular options are pace, distance, and heart rate!
Plus, a New Font

The update includes a new font which makes it easier to view your power output. The font is bigger and bolder, especially for numerical values, to make it easier than ever to quickly see power and the rest of your data!
---
New: Improved Audio Cues.

Improved Speech Annunciation and Pacing

Have you been enjoying the audio cues in the Stryd Apple Watch app? We made the cues even better with improved speed annunciation and pacing. It is easier than ever to execute an "eye-free" power-based workout by purely listening to the Stryd app to guide your run!
New Lap Summary Cue

Just going for a run? We have a new feature for you too! We added a lap summary speech cue for the 'free run' mode. You get periodic updates on how you are doing to keep your run on track.
---
Getting Started

Please update to the latest version of the Stryd iOS app (>7.11.0) in order to get started with this new update.

Visit the Stryd knowledge base to get updated and get started with these new features >
---
Your feedback has taken the new Stryd Apple Watch app experience to the next level.
Enjoy these new features. Let us know what features you would like to see next!
---
Buy Stryd on the Stryd online store >

Join the Stryd Community on Facebook to discuss this feature release >

Upgrade to the Stryd Membership to access the full Stryd Workout Library and even more features >