All-new Stryd Apple Watch App: Eyes-Free Workouts, Always On Display, + More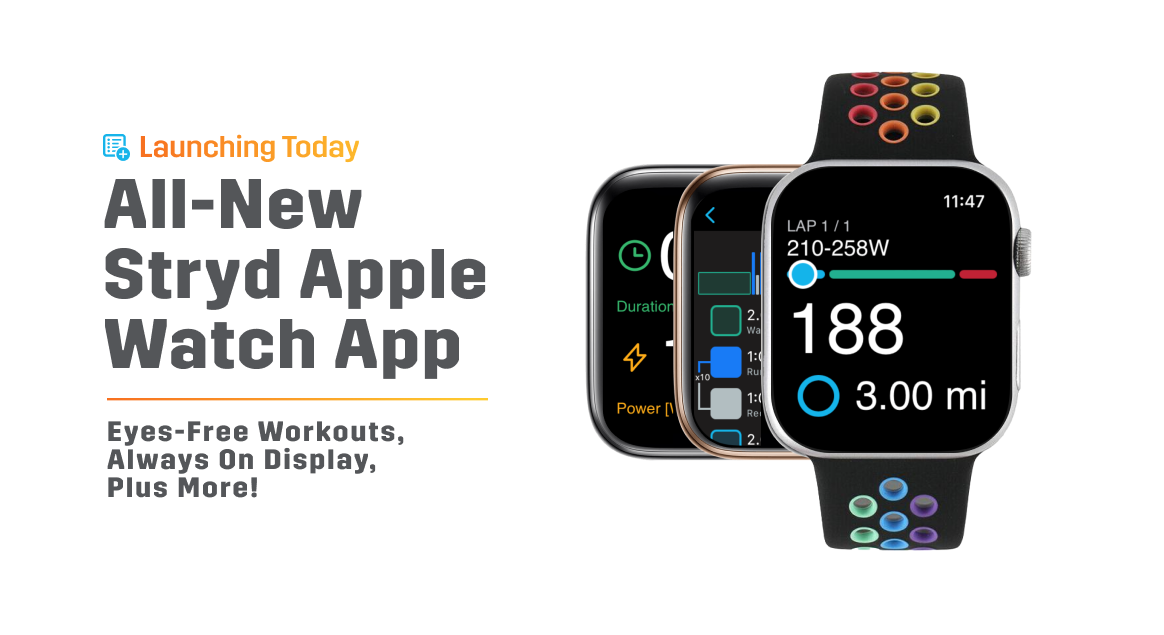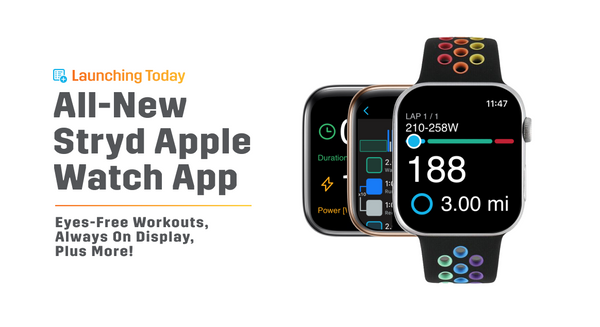 Today, we are releasing an all-new Stryd Apple Watch app. The app has been rebuilt from the ground up, taking advantage of all the new things Apple Watch has to offer, and delivering a best-in-class running with power experience.

Here are the two biggest highlights of the new release:
All new eyes-free workout experience with audio cues and text-to-voice prompts
Always On display is now enabled

That's not all!
This release is packed full of other great features to enhance your Stryd experience.
Running Stress Balance in the Stryd Apple Watch app
Critical Power in the Stryd Apple Watch app
Customize metric and field layouts in the run mode on the watch
Updated in-app settings menu to tailor your experience
Let's dive into the top features.
---

New: Eyes-Free Workout Experience

The Stryd workout experience on the Apple Watch has been comprehensively redesigned to create a first of its kind eyes-free workout experience.
Eyes-free means you can execute a complete power-based workout without ever needing to look at your watch.
We have combined some incredibly powerful features like audio cues and text-to-voice. This enables your watch to read the workout steps out loud and use tones to keep you in your target zone for a workout.
You can run at the perfect pace — without ever looking at your watch!
Here is how we do it:
Instructions for every workout segment with text-to-voice

Your workout description is read to you at the start of every workout segment! This will help you switch gears into the next step of your workout. You can keep your focus on your run — without needing to stare at your watch.
Find your rhythm with real-time, intuitive vibrations, tones, and voice instructions

Stick to your target with the help of vibrations, tones, and voice instructions. You will get instant alerts whenever you leave your target range so you can quickly ramp up or down your power to get back into your zone.
You will quickly find the right intensity to run at to reach your power target!
---
New: Always On Display

Always On display has been one of the most requested features from the Stryd Community.
Stryders have long wanted to see their running power instantly when they look at their Apple Watch.
Today, we are proud to announce that this functionality is finally here!
Now, it is easier than ever to use power to help you through your run on Apple Watch.
Whenever you glance at your watch, your power is always there to guide you.
It's really that simple!

A new workout screen to guide you.

Once we enabled Always On display, we knew we needed to build out a visually pleasing informative workout screen to look at.
The new workout screen provides a few critical pieces of information to guide your run.
Real time power target + visual gauge enables you to see how close you are to your power target
Progress in your workout with a lap counter so you know how far you are into your workout
---
Other New Additions

Running Stress Balance & Critical Power

The Stryd Apple Watch app now shows your Running Stress Balance. You can instantly know how you are balancing your running stress and recovery to keep your training on track!
You also can view your Critical Power and when it was last updated to see if you have had any recent changes to your fitness or power targets.
---
Customizable Metrics & Layouts

The new Stryd Apple Watch app gives you the power to fully customize the data you want to view when you run.
You can add an unlimited number of custom screens and add up to 7 metrics to each custom screen.
Your custom metrics and layouts are available in both the free run mode and the workout mode of the app.
---

Workout Previews Prepare You To Ace Your Run

We have taken our colorful, full featured workout previews from the Stryd mobile app and brought them into the Stryd Apple Watch app.

You can see every workout step graphed out to get an approximate idea of intensity and duration.

Now, you know what to expect during every step of your workout so you can ace your run!
---
Tailor Your Experience With Updated In-App Settings

The in-app settings menu has been updated with options to control the followings options:
Auto-Pause: Enable/disable the app to pause your activity when you come to a stop
Sounds and Haptics: Enable/disable sounds and haptic guidance when running
Speech Cues: Enable/disable the app to read off workout information
GPS: Enable/disable GPS track recording
Calibration: Fine tune Stryd's accuracy with a calibration factor
Side Buttons: Enable/disable the ability to manually lap/advance workout segments by pressing both side buttons at the same time
Auto-Lap: Enable/disable automatic laps every mile/kilometer
---
Live Announcement & FAQ
Watch the announcement of these new feature at the YouTube link below.
---
Getting Started
Visit the Stryd knowledge base to get updated and get started with these new features >
---
Wrap Up

This Stryd Apple Watch app is a groundbreaking release. Power is with you every stride of your journey — whether you are looking at your watch or not — with a full featured, always on display and an eyes-free audio & haptic driven workout experience.
The combination of our power-based workouts, Stryd's running power, and guided power-based workout experience creates a first-of-its-kind running experience that makes it possible to train with unrivaled precision. We can't wait to see how far you can take your fitness with these new tools!
On top of that, this update introduces the foundation for us to take your experience even further with future updates to the Stryd Apple Watch app. Let us know what features you would like to see next!
---
Buy Stryd on the Stryd online store >

Join the Stryd Community on Facebook to discuss this feature release >

Upgrade to the Stryd Membership to access the full Stryd Workout Library and even more features >