Closer Look | 30+ Pre-Built Power-Based Workouts in the Workout Library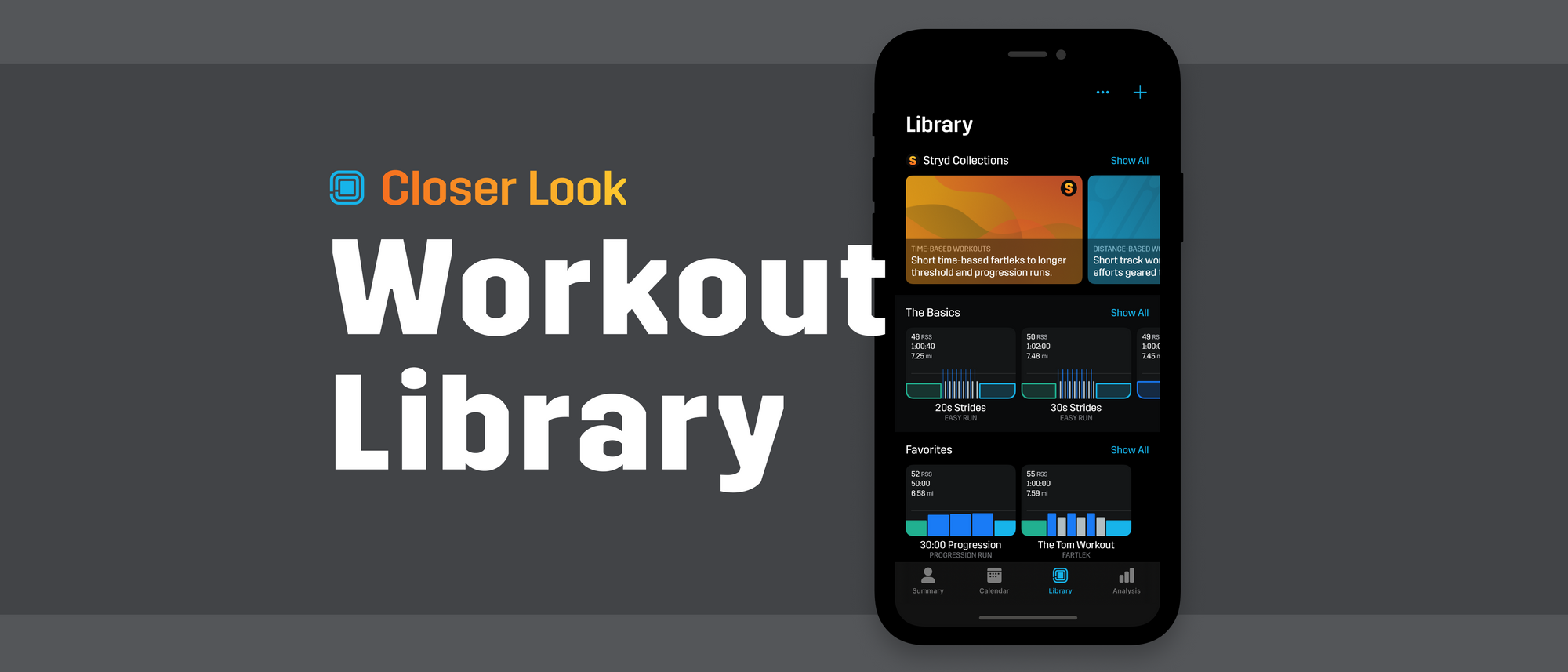 Keep your auto-calculated Critical Power accurate with targeted max effort sessions
Challenge yourself with legendary workouts from the Classic Collection
Build your own training plan with the fundamentals: pre-built intervals, long runs, easy, and more
Store your own collections of your favorite workouts
What does the perfect week of training look like?
Is it pushing yourself to your limit in the final build up to your A race to prove you have the speed to accomplish your race goal...

...then recovering the next day as you reflect on your hard work...

...and finishing the week off with a long run that proves you have the endurance to finish the race strong?
Every great race starts with a great week of training.

That week of training can be created in the Workout Library, which is launching this week as part of the Stryd Membership.

With the Workout Library, you receive 30+ pre-built workouts you can drop in your calendar to plan your perfect week of training.

Let's take a look at what you can do with the Workout Library!
---

Legendary Workouts inspired by running lore designed to push & inspire you | Classic Workout Collection
Classic Workouts are a collection of workouts inspired by running lore. Each of these workouts will put your fitness to the test and can be a great way to add a special challenge to any week of training. However, don't fear the challenge! Completion may seem daunting but these workouts are within your reach because they have been personalized to your Critical Power. Even when the later intervals of these workouts become challenging, you can trust that you're running within your limits if you stick to your power targets.
When you are in the middle of a training plan and need to add some variety or test your limits before final race preparations, you can substitute a workout from your calendar and drop one of these classic workouts in. Be measured in your use of these workouts. If you want to conquer these challenges come into it fresh and with the right attitude!
---
Get access to the Workout Library now with our new Stryd Membership deals.

If you are an existing Stryd customer, you can upgrade to the Stryd Membership on PowerCenter. Click here to learn more >>
---

Add fun & variety to your training with the Workout of the Week Collection
Workout of the Week is refreshed every Wednesday with a workout from the Stryd team.

You can expect to see the favorite workouts of Stryd employees, top coaches in the Stryd Power Coaching group, popular workouts making the rounds online, and more — all converted to power!
---

Keep you auto-calculated Critical Power accurate with the Critical Power Calibration Collection
Racing isn't always something Stryders have access to, so determining an accurate Critical Power can be tough. Now, regardless of your training cycle or accessibility, you can drop one of these tests in your calendar to help you keep your auto-calculated Critical Power accurate!
The 5 workouts include a 2 minutes very hard effort, 1 minute very hard effort, 20 minutes comfortably hard effort plus 30 seconds all-out, 5 minutes hard effort, and a 5k time trial.
---

Race cancelled? Turn to the Time Trial Collection to guide you through a perfectly paced time trial session!
It is disheartening news whenever a race is cancelled but that does not mean you should lay off your training! A time trial is a great solution to test your fitness when you cannot race. Power is the perfect companion for a time trial.
The 5K & 10K time trial options turn the Stryd Apple Watch app & the Stryd Workout App (Connect IQ 3.0+ watches) into a time trial companion! You can set a target power and receive power-based guidance from start to finish of your session to keep your pacing even and motivation to stick to your power target.
---

Create the foundation of any good training plan with 15+ other workouts
Workout Library contains a wide array of pre-built workouts. You will have the essential workouts you need to create the foundation of any good training plan. Spanning from intervals to easy runs to long runs, you have the options to quickly construct your own training plan or make a few simple tweaks to your running routine.
All of these workouts come with power targets based on your Critical Power & a short description on the purpose of the workout. When you read through the description of these pre-built workouts, you will know what you are getting out of each training session. With the personalized power-based steps, you will be guided to accomplish that objective!
---
Join the live stream today!

Evan Schwartz from the Stryd Team will take you through the Workout Library with a live demo & answer all of your questions.
When: 1PM MDT (GMT-6) on Thursday, April 8th | Tap the Youtube video for a countdown | Replay available afterwards
Where: Click here for the Youtube Live Stream
Can't make the livestream? Watch a demo here >
---

Final Word

With the new Workout Library, you can plan your perfect week of training filled with everything from targeted sessions to increase your auto-calculated Critical Power to legendary workouts that test your capabilities.
If you are an existing Stryd customer, you can upgrade to the Stryd Membership on PowerCenter. Click here to learn more >>
Best,
Stryd Team
---
Read tfk's review on the new Workout Builder & Library!

Tech reviewer the5krunner got to dig into the new features over the last week.

Here are some excerpts from his post:
"...there is some impressive work here and it's great to think how a straightforward, accurate foot pod from Colorado has morphed into a unique global running platform..."
"This all appears to have been constructed to make the overall offering fair or generous to everyone..."