Huge update brings Android one step closer to iOS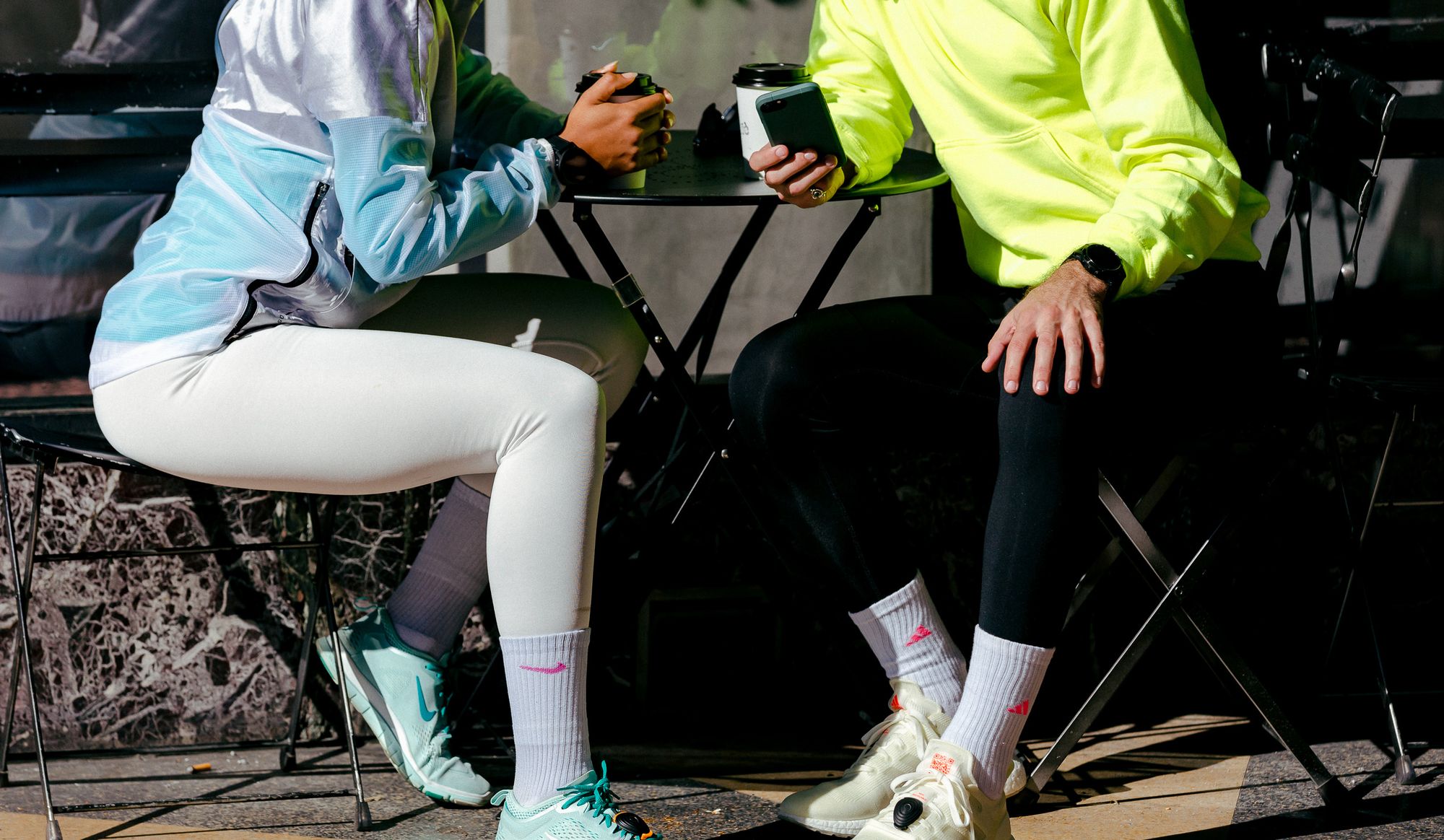 Dear Stryder,

We have a major update to our Android app that delivers a significant amount of the core functionality of the iOS app to Android.

How to update: You can access this new feature set by downloading the latest version of the Android app from the Play Store. Click here to visit the Stryd app on the Google Play Store>>

Here are the highlights!

Video Walkthrough
#1: Pinpoint past runs quickly with new beautiful & instantly identifiable mapping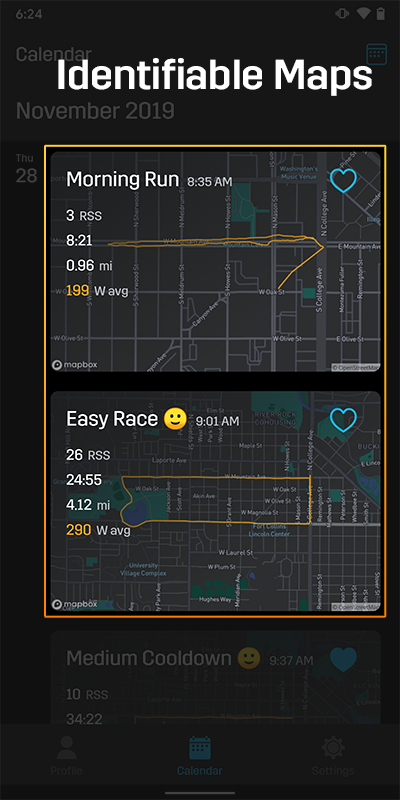 New mapping ensures that you quickly find the activity you want to view.

#2: View months of training in a flash with new heatmap calendar view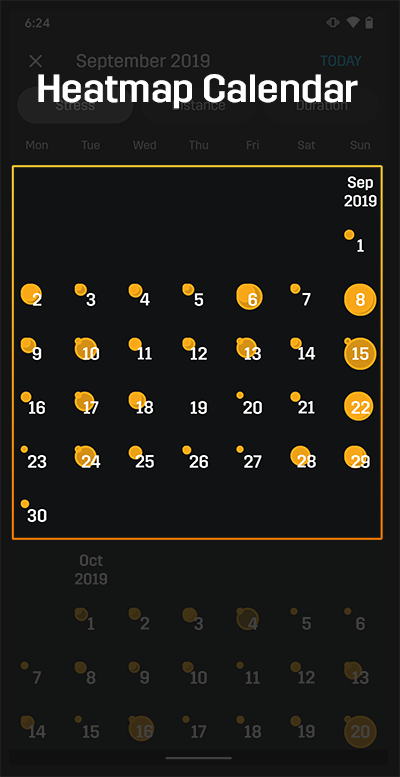 The heatmap view of your calendar shows a month's worth of training variety in a single glance.

Larger dots indicate your more significant runs, as filtered by stress, time, and distance. And, multiple dots indicate multiple activities on a single day.

#3: Jump from profile to calendar to device management quicker with new tab-based navigation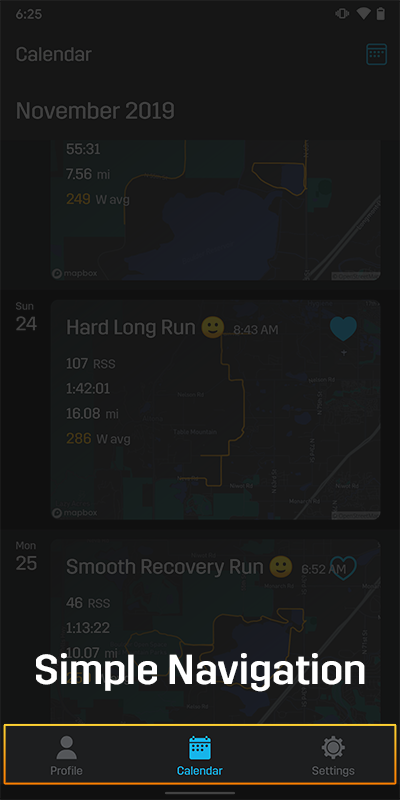 New tab-based menu requires less taps to get around, compared to the previous pop-out menu.

#4: Favorite breakthrough workouts for future admiration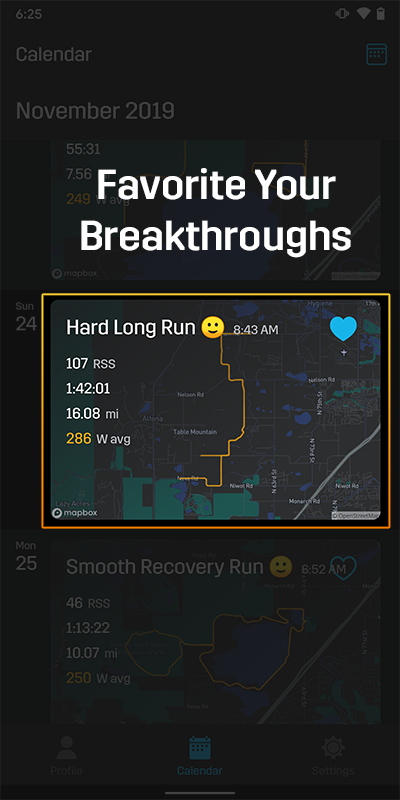 You can begin to tag your favorite workouts now. More filtering-based options are coming in the next Android release which will allow you to instantly find 'favorited' activities.
How to update: You can access this new feature set by downloading the latest version of the Android app from the Play Store. Click here to visit the Stryd app on the Google Play Store>>
What is next for Android?
Our Android developer is hard at work to catch up with the blazing speed of our Stryd iOS updates.
In the next Android update, you can expect more filtering features and training features.
FAQ

Q: Where are the run cards that were on the home screen?
A: These have moved to the new Calendar.

Q: Where did run recording and offline sync go?
A: Go to the Profile tab, then tap the blue runner icon.

Q: Where did the drawer go?
A: It is gone, but nothing was removed from the app. All existing options were moved to the navigation at the bottom of the screen.

Q: Where did the colored map line on the post-run screen go?
A: This has switched to an orange-only line for the time being. We will definitely improve this in the future.
Release Notes

NEW STUFF:
* Brand new run calendar for viewing your run history
* Heat map for seeing your running stress distribution at a glance on the calendar
* New tab navigation to access your calendar and settings
* 'Favorite' memorable or best effort runs for future filtering
* Run recording and offline sync have moved to a runner icon on the home screen
IMPROVED STUFF:
* Fixed time entry issue for duration on the CP calculate screen
* Fixed issue where recorded elevation would be zero or not from Stryd
* Fixed issue where recorded speed could be from GPS rather than from Stryd
* Fixed issue where displayed Critical Power values could differ
* Improved the map stability on the run summary screen
* Improved colors throughout the app