For the Love of Running | Webinar Series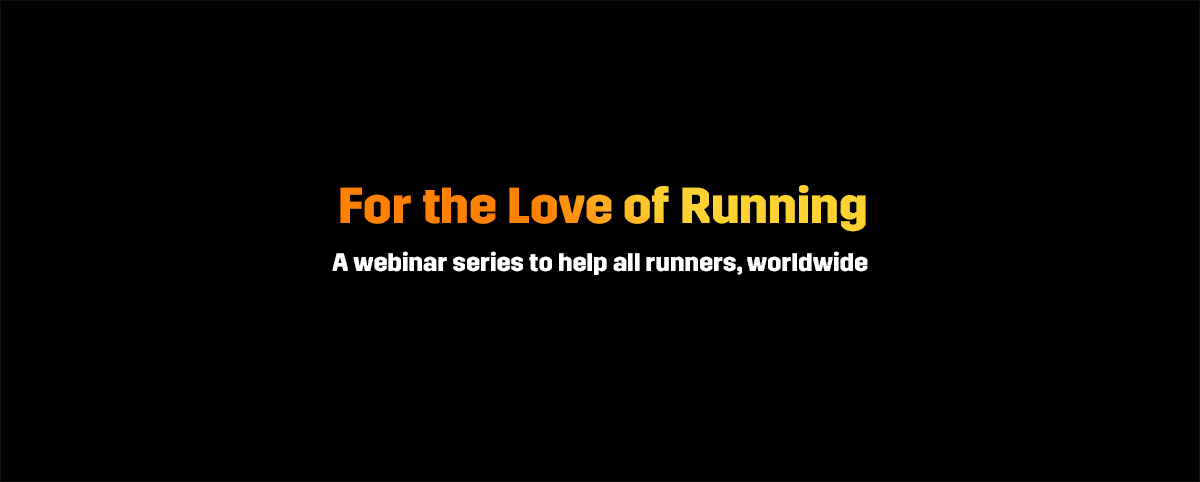 What is the 'For the Love of Running' webinar series?

The purpose of this series is to serve the entire running community with information on how to maintain your healthy routines and enjoy the sport of running during this exceptional time.
If you do not already receive email updates from Stryd, please sign up for alerts on when the webinars will start by signing up here https://mailchi.mp/stryd/for-the-love-of-runnning-int
Upcoming Webinars
Note: all times and scheduled webinars are subject to change
Optimizing Training Load Using Running Stress Score with Coach Steve Palladino | Wednesday, June 10 @ Noon MT (GMT-6)
Completed Webinars
Coach Tom 'Tinman' Schwartz on his adjustments to his elite's training routines and how these can apply to you
Dr. Gottschall presented at-home exercises to increase fitness and increase injury resistance.
Olympic Coach Bobby McGee on smart triathlon and run training
Coach Steve Palladino on how to modify your training and racing routine
Find an audio recording here: http://stryd.libsyn.com/how-to-train-when-your-race-is-cancelled
RDN Sakiko Minagawa on smart nutrition and dieting for runners
Preparing for a monumental Fall racing season with Kaylee & Lindsay Flanagan
Olympics Trials Marathoner Evan Schwartz
Evan will be discussing how he is using this time period to regroup, refocus, and rebuild following his race at the trials.
Smart rehab and treadmill running with Physical Therapist Malcolm Macaulay
How to prepare for a monumental ultra & trail racing season with Coach Andy DuBois
How runners can build functional strength at home with Personal Trainer Kevin Purvis
Healthy running practices with Dr. Josh Emdur, D.O.
How runners can strengthen their mental fortitude with Dr. Stephen Walker
Fueling your three running energy systems with Erin Skinner MS, RD, CPT, IFNCP
How to tell if your fitness is progressing using Stryd data -- even without racing opportunities! with the Stryd Team
Practical in-run techniques to defeat negative self-talk en route to triumphant performances with Coach & Author Will Murray
Triathlon training for a monumental Fall racing season with Professional Triathletes Justin & Jeanni Metzler | Wednesday, April 22 @ 1PM MT (GMT-6)
Learning from the best pacing strategies of Boston 2019 using Stryd data
Dr. Shawn Bearden of Science of Ultra discusses the future of running research
Presenting the best Stryd metrics to gauge to see if your fitness is improving
Keep your training momentum by staying injury-free with Dr. Sarah Ceschin
A Tale of Two Time Trails with the Stryd Team | Friday, May 8 @ 11AM MT (GMT-6)
Training as a competitive Masters Runner with Ian Berman | Thursday, May 14 @ 10AM MT (GMT-6)
Learning from the best pacing strategies of NYC 2019 — using Stryd data!
The Story of Seven Season's Best Performances
Everything you didn't know about putting on a race with Race Director Andy Harris
How Mikael Eriksson from That Triathlon Show refines his training and research process
Translating 10 Common Running Adages to Run Power Terms