New Update for Garmin Watches: Execute Your Power-Based Workouts Natively & Much More
Today, we are announcing a major upgrade to the Stryd ecosystem that makes it easier and more convenient than ever to train with running power on your Garmin watch.
Now, you can import all of your workouts to your Garmin account, sync those workouts to the watch, and execute those workouts with guidance using the latest update to the Stryd Zones data field.
That is just the start!
This update comprehensively upgrades your Stryd experience with Run Profile support of the Next Gen Stryd for tailored pacing, extensive custom data field options for full control over your display, environmental power adjustments for perfect pacing in any environment, support for the new dual-sided metrics from Stryd Duo, and more.
Please read on to learn more about this incredible new update, the full watch compatibility list, and how you can get started with this breakthrough update today.
---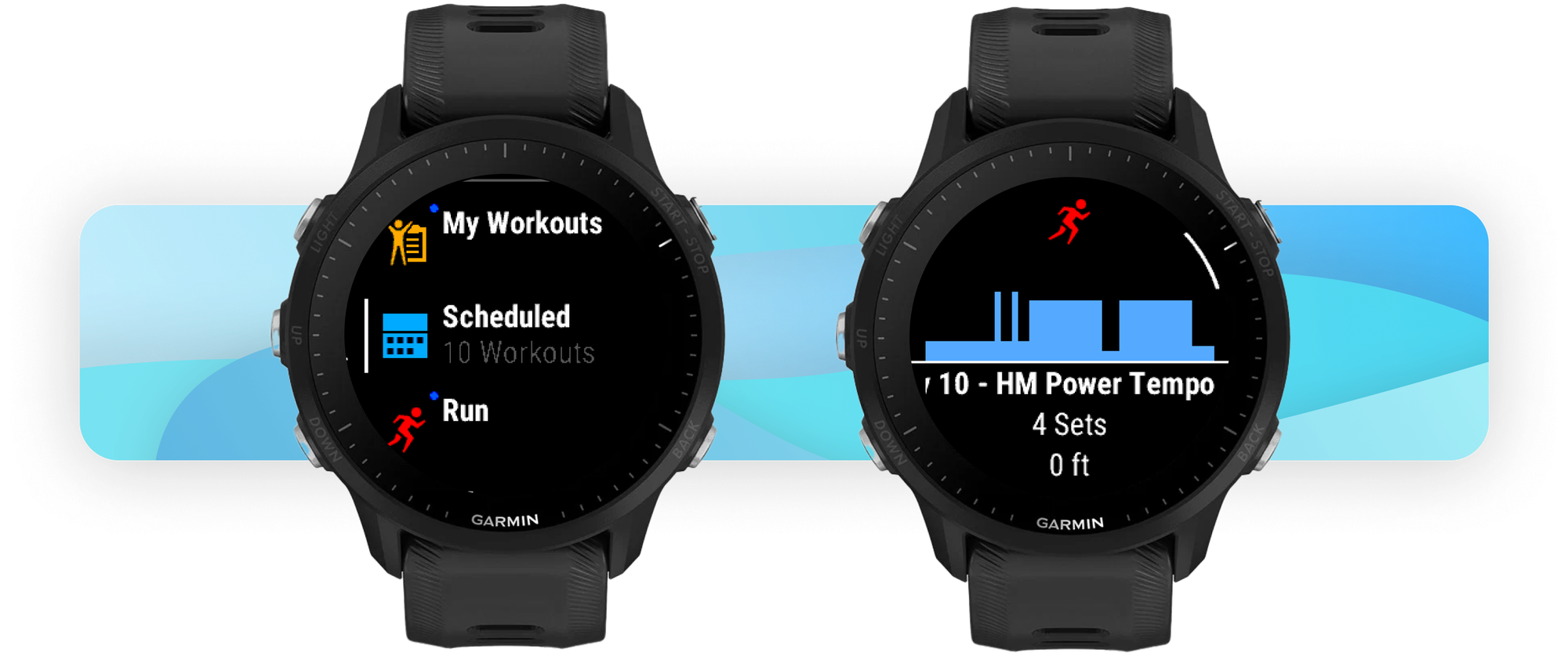 Automatically Sync Workouts to Your Garmin Watch
Your planned workouts automatically sync to the training calendar on your Garmin calendar and watch! All you have to do is pair your Garmin account to your Stryd account, for the most convenient and easy way to sync your workouts.
All of your upcoming workouts will be available on your watch and you can easily launch any of those workouts in the native activity mode on your watch.
If you use Final Surge, TrainingPeaks, or another platform to manage your power-based training, you can keep using the activity sync enabled by those platforms to transfer your power-based workouts to Garmin Connect.
---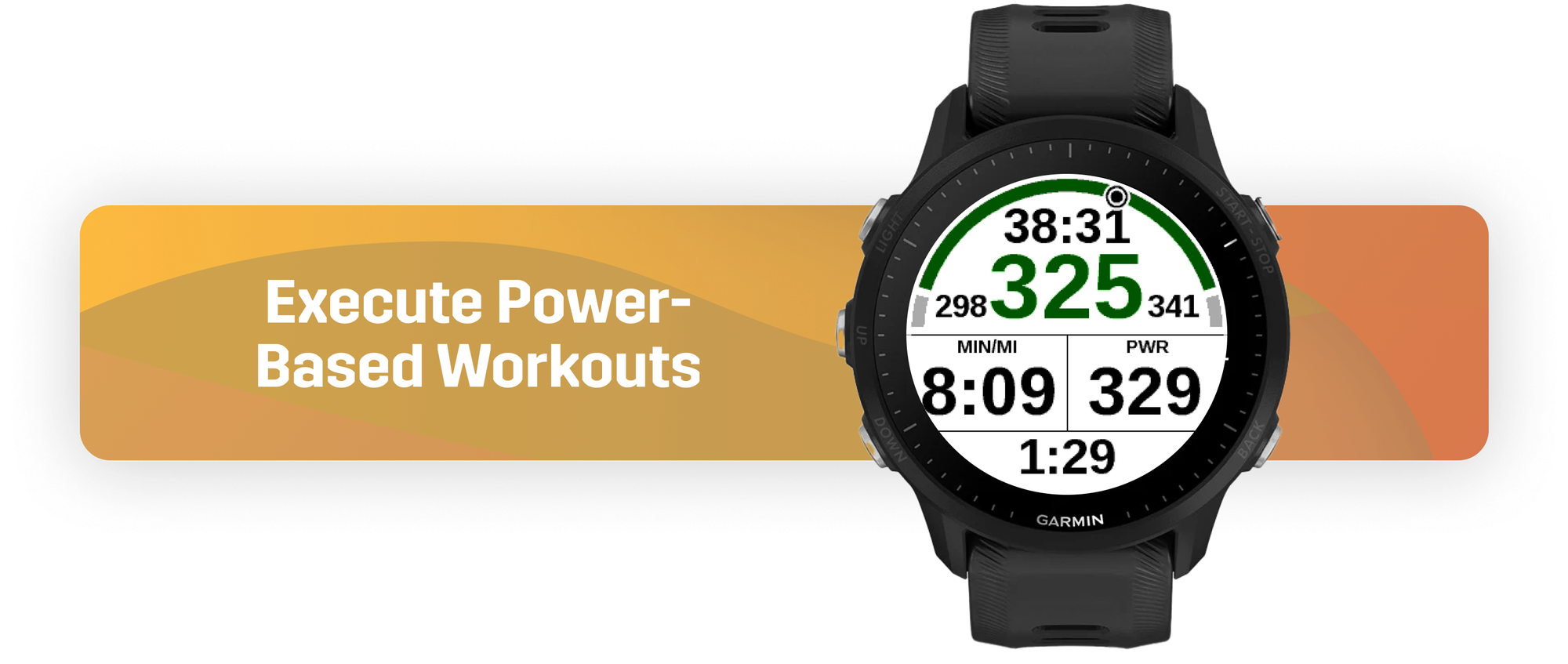 Execute Power-Based Workouts with the Stryd Zones data field
Stryd Zones data field has been upgraded to support structured workout execution.
You will be greeted with everything you need to execute your workout step with precision: including a power gauge, low/high power targets values, and the duration remaining in the step.
You can even enable tone and vibration alerts for timely reminders if you drift out of your target wattage.
When you are not executing a workout, the power target gauge and values are replaced with your current power zone to help you manage your training intensity during every run.
Your zones are automatically pulled in and always up-to-date by entering your username in the settings of the Stryd Zones data field!
---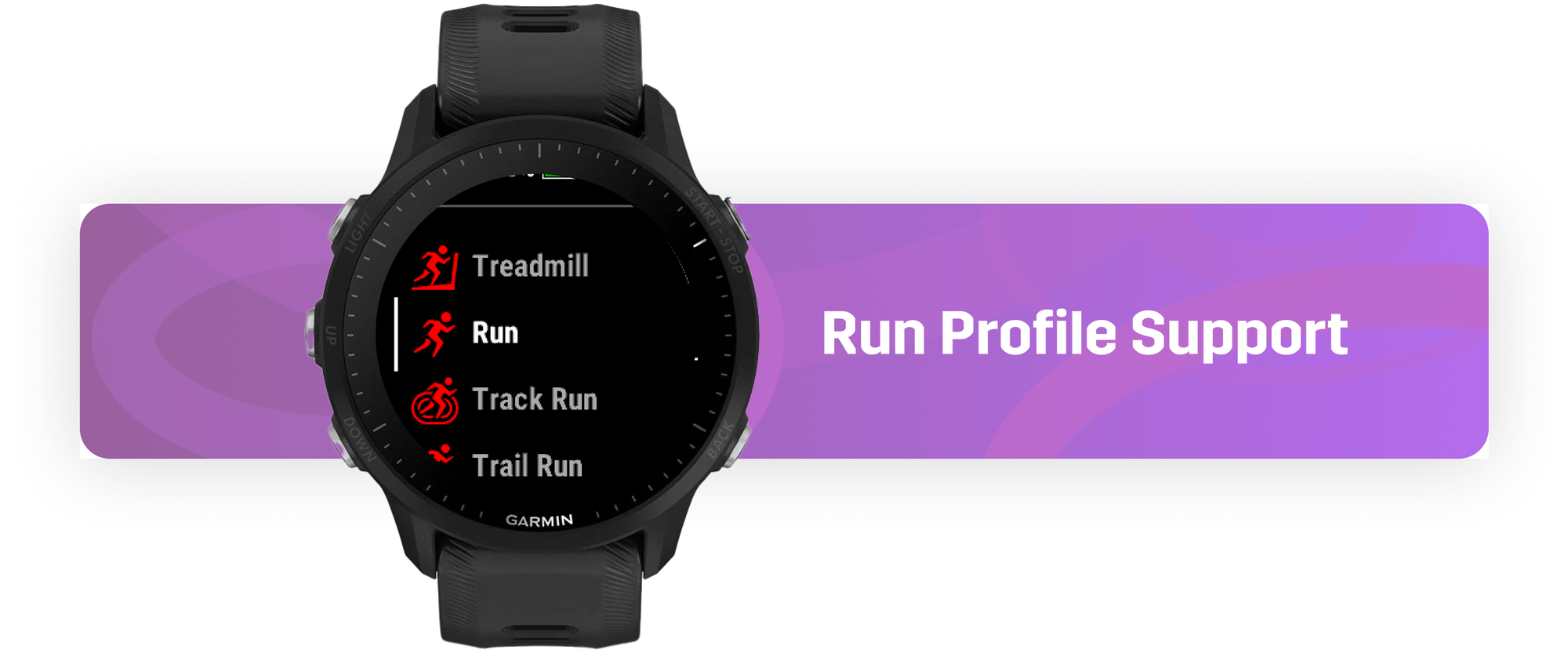 Run Profile Support Tailors Your Pacing
Pacing with Stryd is easier than ever thanks to the new Run Profile support in the Stryd Zones data field.
By placing the Stryd Zones data field in and recording your activity with your choice of the Run, Treadmill, Track, or Trail profile, you receive Stryd's best power metric for those conditions. The road profile leverages Stryd's improved responsiveness to get you to your target power target in an instant. The track profile brings Stryd's most responsive power number ever so you can hit every split with wattage-precision. The trail profile gives you Stryd's most stable power number ever so you can stick to your power target even over conditions that change on a step-by-step basis.
* Note: This feature is only available when using the Next Gen Stryd or Stryd Duo.
---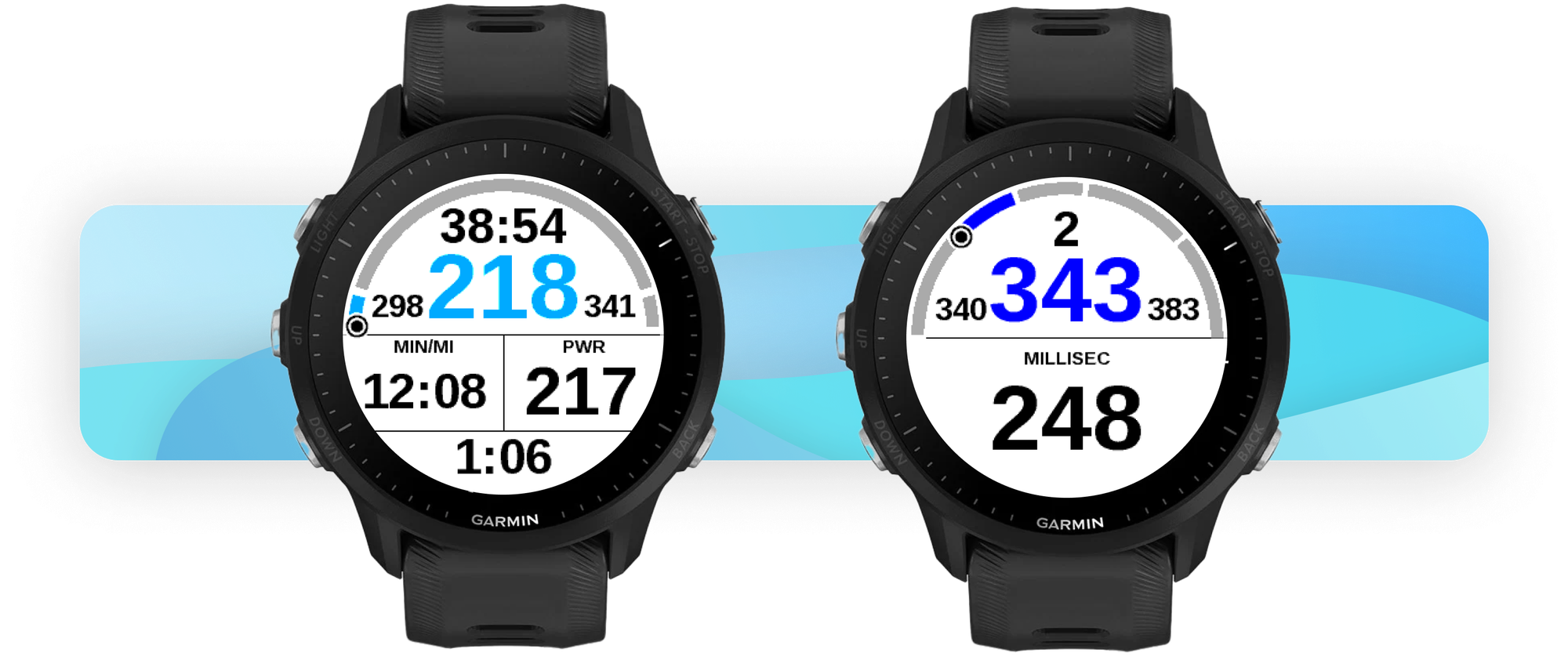 Take Control of Your Data with Customizable Fields
The latest Stryd Zones update introduces a highly customizable way to personalize your Stryd Zones data fields, ensuring a more focused and effective workout.
Here's how it enhances your running with power experience:
Versatile Customization: You now have the flexibility to choose from 5 customizable metrics, tailoring your watch display to your specific training needs. For those who prefer a minimal approach, there's an option to display just two key metrics. This simpler view further aids in concentrating on essential data, avoiding information overload.
Extensive Metric Options: The available metrics cover a wide range of options including: power zones; multiple power averaging fields; workout fields like lap timer, lap distance & more; and even extending to environmental values like temperature and humidity from the Next Gen Stryd and Stryd Duo. This comprehensive selection allows for precise monitoring of various aspects of your run.
Focused Training: This update's simple interface is designed to direct your attention towards your power targets. Focusing on power during workouts is crucial, as it enables you to execute your sessions more effectively, optimizing your performance.
On-the-Go Customization: The update allows for easy customization of settings directly on the device. This feature is particularly useful for runners who need to make adjustments while out on a run, providing flexibility and convenience.
This update significantly enhances your ability to train with precision by offering a more tailored and focused approach to monitoring and executing power-based workouts with your Garmin watch!
---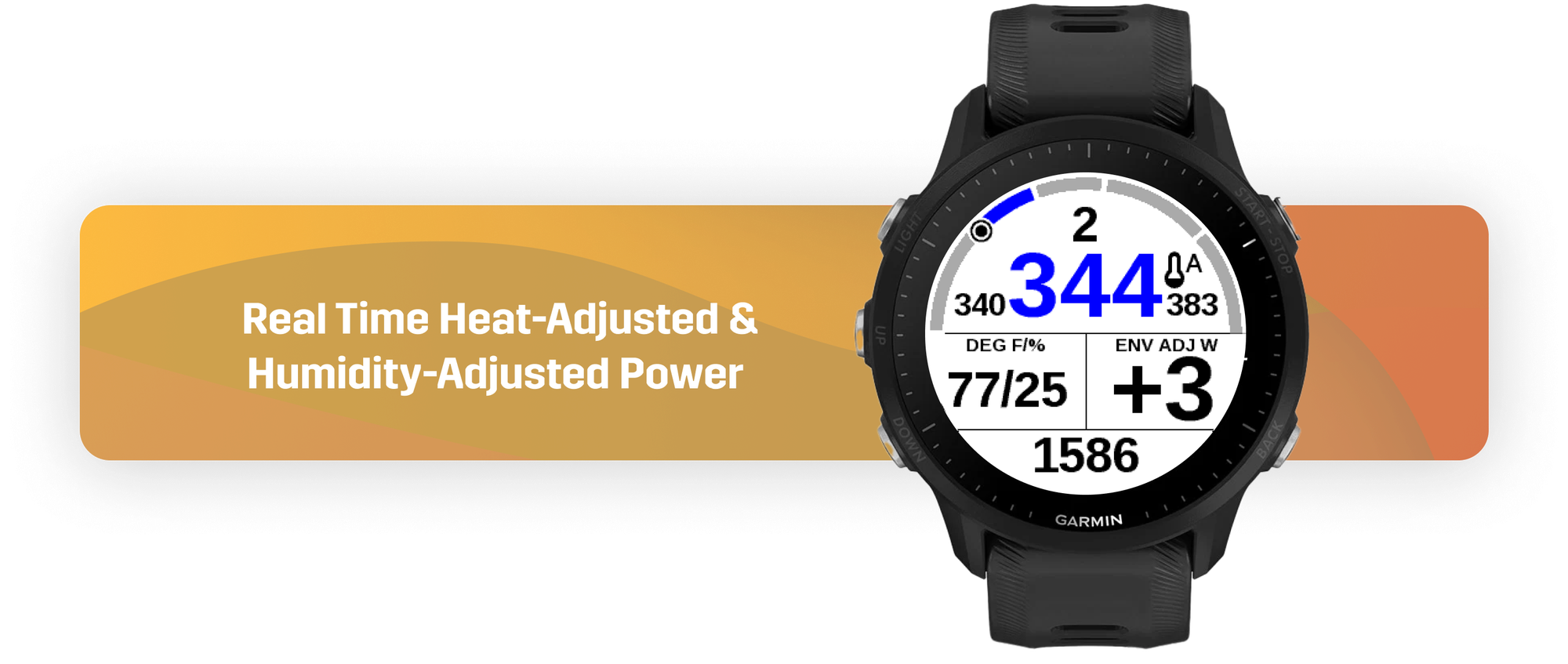 Perfect Pacing in Any Environment with Environmental Power
Now, the Stryd Zones datafield provides real time heat-adjusted and humidity-adjusted power using the temperature and humidity data directly from the Stryd pod. This new feature is designed to help you adapt your running intensity to real-time environmental conditions.
Environmental adjustments are based on your last 90 days of training conditions. If you want to fine tune those factors, you can manually set your normal temperature and humidity conditions in the settings of the Stryd Zones data field as well.
In addition, temperature and humidity from Stryd are recorded as well so you can track how conditions changed over the course of your run.
* Note: This feature is available when using Stryd wind model, Next Gen Stryd, or Stryd Duo.
---

Support for Stryd Duo Metrics
Stryd Duo delivers new biomechanical metrics tracking the differences between the left and right side of your body. These new "balance" metrics are being delivered with leading, Stryd-fidelity for the first time, allowing you to track your trends over time to learn more about your running progression and to understand quantitatively what works best for you.
Here are the new second-by-second metrics Stryd Duo will report:
Ground Contact Time Balance
Vertical Ratio
Vertical Oscillation Balance
Leg Spring Stiffness Balance
Impact Loading Rate Balance
This new update for Stryd Zones, combined with the RD pod pairing available with Stryd Duo, records these five new metrics to the FIT file.
---
How to Get Started with the New Update
This update is available now. Tap the button below to learn how to update to the latest version of the Stryd Zones data field on compatible watches, configure the settings, and start importing power-based structured workouts into your Garmin account!
Here is a list of compatible watches with this new update: Approach S70 Series, D2Air x10, D2 Mach1, Descent MK2 & MK2S, Epix 2, Epix 2 Pro Series, Fenix 6 Pro Series, Fenix 7 Series & Pro Series, FR245M, FR255 Series, FR265 Series, FR745, FR945 Series, FR955, FR965, Marq 2 Series, Venu 2 Series & Venu 2 Plus, Venu 3 Series, Vivoactive 5.
While we worked to enable this update on as many watches as we could, not all watches had the memory or capability to support these new features. Watches that do not receive this update will remain with the previous version of the Stryd Zones data field and can continue to execute their power-based workouts using the Stryd Workout App
---
Join the live stream to see it all in action
We will go live to showcase these new features at 2PM MT (-6GMT) on November 14.
Please join us for a presentation of the incredible new features available on Garmin watch and for a live Q&A session to get your questions answered, or tap the video above to watch the replay!
---
Wrap Up: Power-based Training Is Easier and More Convenient than Ever Before
The latest update to the Stryd ecosystem marks a significant enhancement in training with Stryd's running power on your Garmin watch.
The ability to seamlessly import workouts to your Garmin account, sync these to your watch, and execute them with the updated Stryd Zones data field, is just the beginning. This update not only introduces Run Profile support for the Next Gen Stryd but also features custom data field options, environmental power adjustments, and support for the new Stryd Duo among other advancements.
Try out these new features today to upgrade your running with power experience!