New Feature Updates: Manage Supplemental Training & Mass Activity Download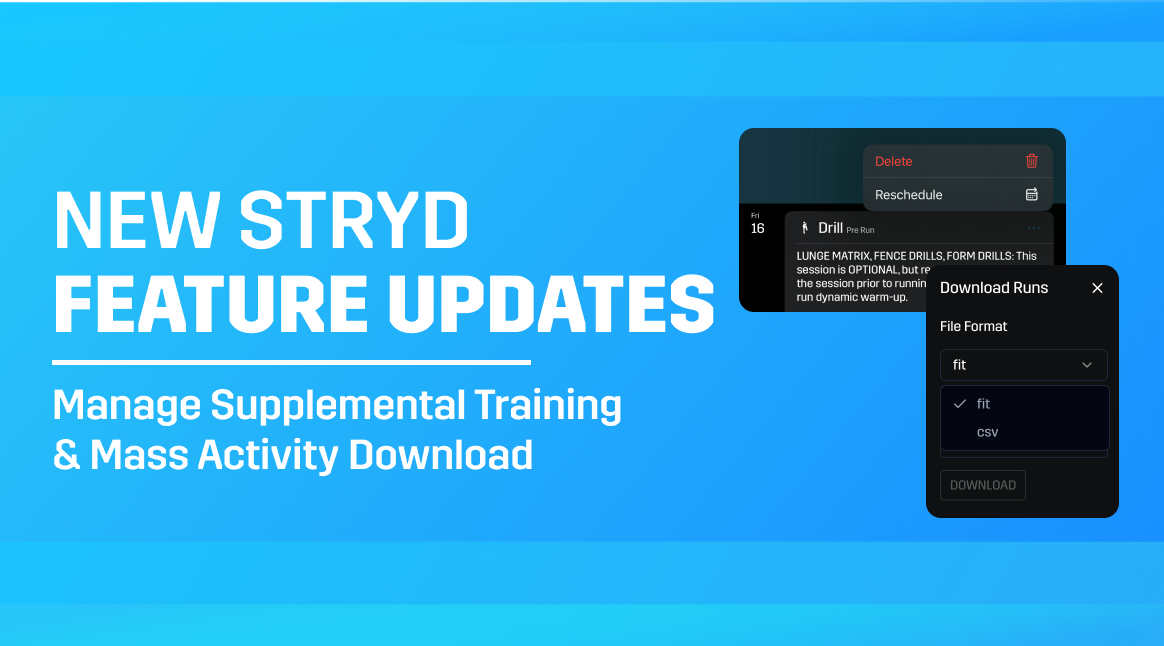 We're excited to share the latest feature enhancements to the Stryd ecosystem designed to make your user experience smoother and more intuitive.

Let's explore what is new:
Reschedule and delete Supplemental Training exercise from the Stryd mobile app
Download multiple activities (FIT & CSV) files from Stryd PowerCenter in just a few taps
These upgrades aim to streamline your training planning process and provide easy access to your data.
---

Manage Supplemental Training in the Stryd Mobile App

Our recent Stryd Training Plan update comes with supplemental training activities, designed to boost your running performance and pave the way to achieving your goals as an endurance runner.
We're delighted to announce that you now have the flexibility to reschedule and delete Supplemental Training exercises on your Stryd calendar.
By simply tapping the '...' button while viewing the Supplemental Training exercise on the calendar of the Stryd mobile app, you can choose to reschedule or delete it as per your convenience.

Want to learn more about Supplemental Training? Tap the button below.
---

Mass Activity Download on Stryd PowerCenter
Interested in uploading your activities to another platform in FIT format? Or, want to download your activities in CSV format to analyze in your own spreadsheet program?
With our latest enhancement in the Stryd PowerCenter, these tasks become a breeze.
You can select the date range of the activities you wish to download, tap a button, and voila! An email with your requested activities is on its way.

Tap the button below for instructions on how to download your activities from Stryd PowerCenter.
---
Try Out the New Features Today!

You can enjoy both of these enhanced features now.
Use the new mass activity download feature on Stryd PowerCenter and the streamlined Supplemental Training management feature in the most recent version of the Stryd mobile app.
These improvements will simplify your training scheduling, enhance your data analysis, and elevate your overall Stryd experience to new heights.
---