New Power-Based 5k to Marathon Plans Coming Soon to All Stryders!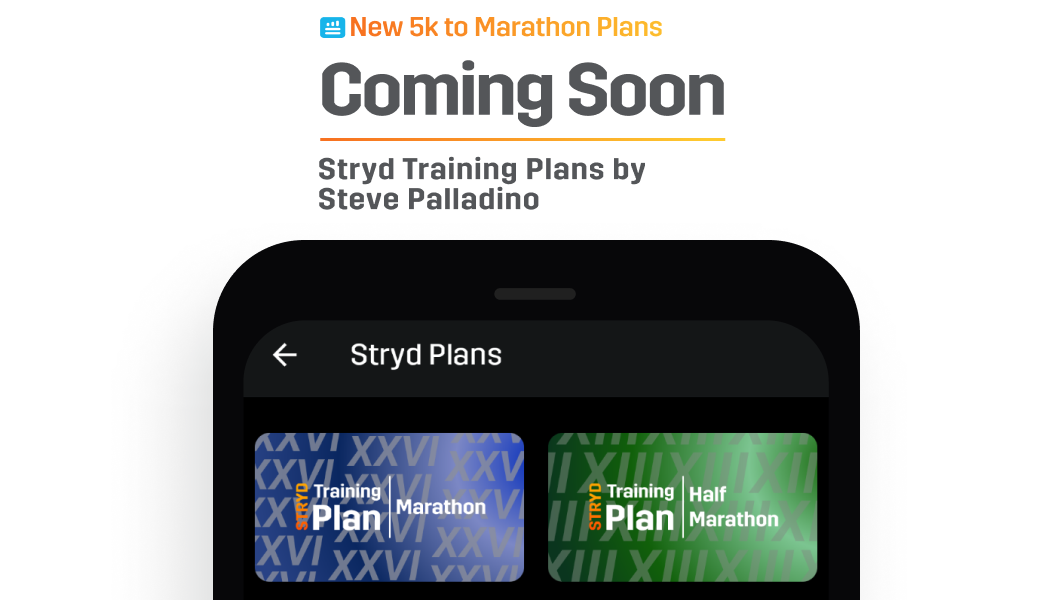 We have an exciting announcement for you today!

New 5k to Marathon power-based training plans are coming soon to all Stryd users.

These new plans are designed to give you your best run training block ever!

Your best training block will be driven by:
NEW Adaptive Plans: automatic Critical Power tests to tailor your training target through the entire plan.

NEW Leveling System: a power-based leveling system to match the challenge of your plan with your capability. The prescribed training will fit your expectations of what a training plan should look and feel like, whether you are just a beginner who is embarking on their running journey or a seasoned runner with years of experience.

NEW Supplemental Training for Performance & Recovery: featuring optional non-running exercises to increase injury resistance and help you become a better athlete.
These plans were designed in partnership with coach Steve Palladino, founder of the Palladino Power Project, to empower your training with the knowledge of one of the leading minds in the world of running power.

We will be releasing access to these new training plans over the next few weeks, starting with the Stryd Android app, and then the Stryd iOS app when it is ready.
To get you ready for this upcoming release and prepare you for your best year of power-based run training yet, here is an FAQ!
---
Q: When will the training plans be available?

A: These training plans will launch on the Stryd Android app in the upcoming weeks. Once the Android app update is available, you will be able to select your plan via the Stryd Android app and add it to your training calendar to start training!

In the weeks after the initial launch on Android, the training plans will then release on the Stryd iOS app.

The reason for the staggered launch is that the Android app is ready now and we want to get the feature out to Stryders as soon as possible! The iOS app will be released as soon as it is ready.

Please watch your email for an announcement on the availability of the Stryd Android and iOS apps so you can get started with these new power-based training plans!
---
Q: Where can I read more about the philosophy and theory behind these new power-based training plans?

We have created a series of articles in the Stryd knowledge base to cover all of the details on the new power-based training plans.

If you want to jump into the details, start here by reading this article.
Be sure to tap through the links in the article to go in-depth on topics such as the leveling system and supplementary activities!

Please post any questions you have on the plans in the Stryd Community group on Facebook or contact us at stryd.com.
---
Today's email is just a preview of things to come.

In the upcoming weeks, we will discuss more incredible features that will come with this release, including build, maintenance, and race recovery plans!

Stay tuned for more information on this upcoming release. We can't wait to help you embark on achieving your goals for 2023 with the help of these new plans!

In the meantime, please post any questions you have on the plans in the Stryd Community group on Facebook or contact us at stryd.com.