New Update: Open Run Power Targets for Stryd Apple Watch App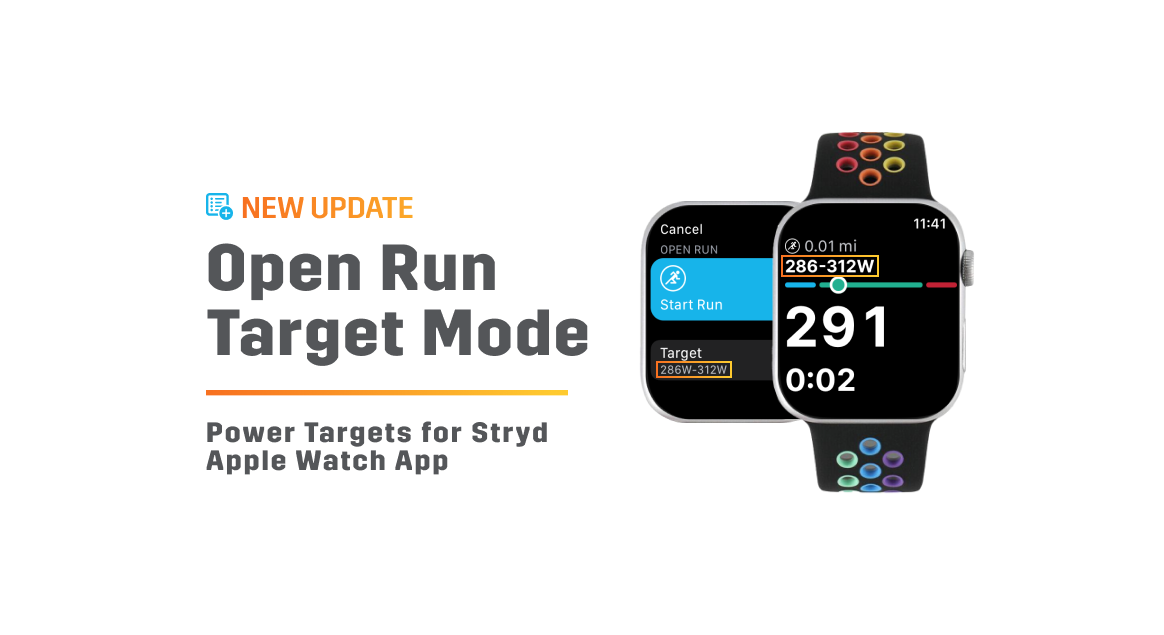 Today, we are releasing an update to the Stryd Apple Watch app that gives the ability to easily set power targets for any run! With this new release, you will be able to effortlessly run with the precision guidance you need to hit your perfect power target for any run with the help of alerts and a new visual gauge to keep you in your target zone.
Here are the highlights of the new release:
Set power targets for open run mode: easily set power targets to guide any run with precision
New power target screen: visualize your effort with a clear color gauge to stick to your power target
Let's dive into the new features for the Stryd Apple Watch app.
---
New: Easily set power targets in open run mode
With this new update, it is easier than ever to go out and run with power-driven precision with the ability to set power targets in open run mode.

In just a few taps, you can set a specific power target you want to run at and receive audio and haptic alerts to keep you in your target range.

This update brings the same "Eyes Free" experience we have for power-based workouts, which enables you to run with precision without needing to raise your wrist to monitor the power target, to open run mode in the Apple Watch app.

If you need more flexibility and control over your target, you can even set a range with single watt precision to make your target range as narrow or as wide as you need.

This feature works for any run you plan to do, including both outdoor runs and treadmill runs, to give you the easiest way to quickly set up a guided activity for any run that requires a single power target like your easy runs, long runs, and races.
---
New: Power target gauge & display to keep you in the zone
When you set a power target or power range, you will also be able to access a new screen when you start an activity in the Stryd Apple Watch app.

The new workout screen provides a few critical pieces of information to guide your run.
Real time power target + visual gauge enables you to quickly and easily see how your effort matches up against your power target
Timer and distance fields to help you keep track of your overall run progress

This new screen is automatically enabled when you set a power target in the app. It is a visual and quick way to instantly check the status of your run!
---
Getting Started

Please update to the latest version of the Stryd iOS app (>7.14.10) in order to get started with these new features.
---
Enjoy these new features!

Your feedback drove this release, bringing a highly requested feature to upgrade the running with power experience on Apple Watch. Let us know what features you would like to see next!
---
Buy Stryd on the Stryd online store >
Join the Stryd Community on Facebook to discuss this feature release >
Upgrade to the Stryd Membership to access the full Stryd Workout Library and even more features >