New: Free Run Mode & Execute 120+ Workouts on Your Phone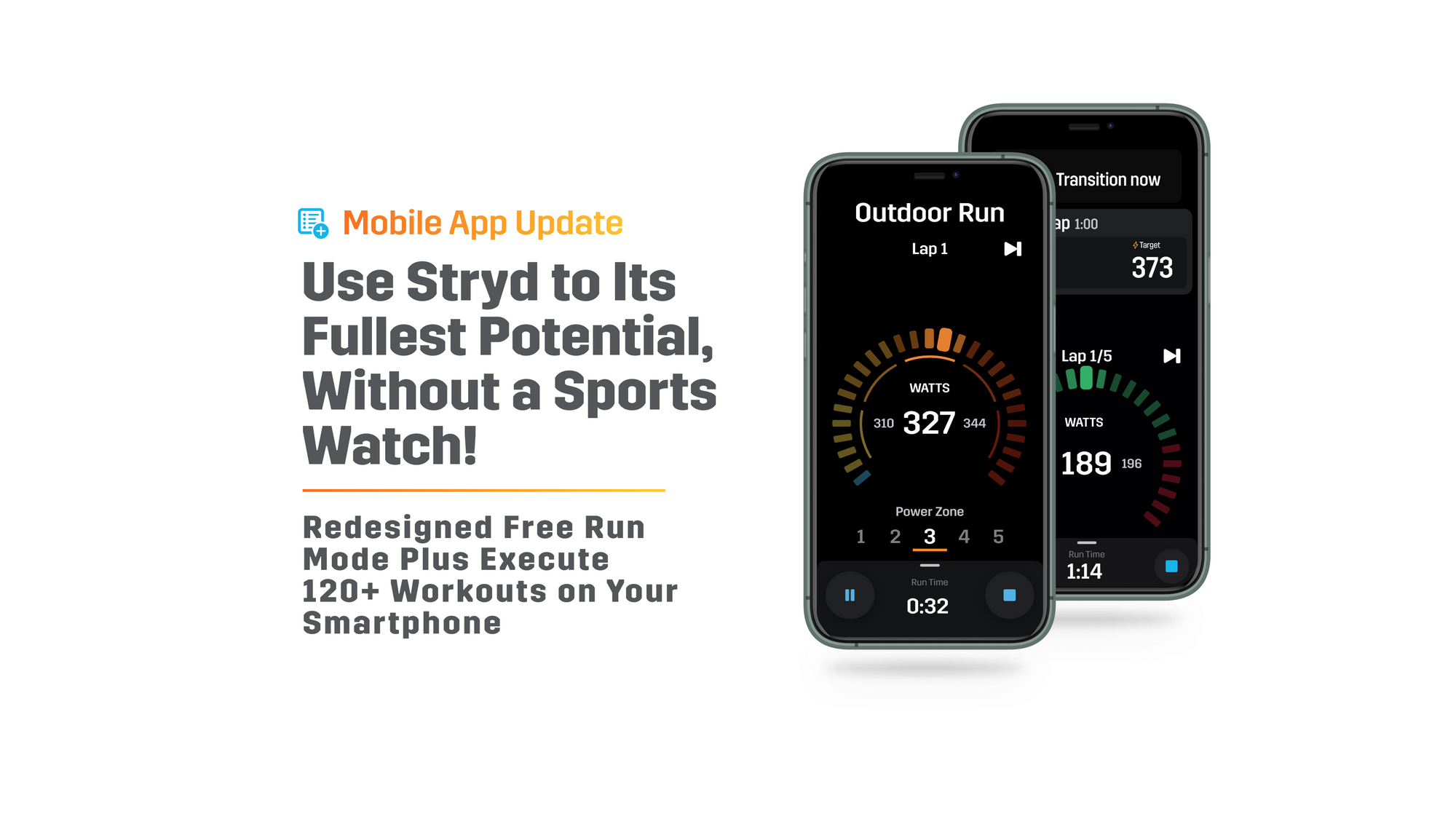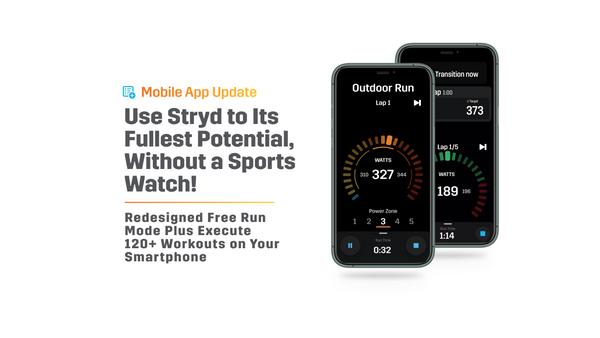 Today, we are launching a new update for the Stryd mobile app that opens up the ability to execute Stryd's power-based structured workouts to everyone.

All you need is your phone and Stryd pod!

You can launch a free run which has been redesigned from the ground up to give you a visual look at your power zones or directly start one of Stryd's 120+ structured workouts (which are available as part of the Stryd Membership) on your phone for guided training.

Let's take a look at the new features!
---

Execute Over 120 Power-Based Workouts on Your Phone

In the past, the only way to execute one of Stryd's power-based workouts from the Workout Library was to use a specific sports watch.

Now, every Stryder with a smartphone can access and execute any of Stryd's 120+ power-based workouts with the latest update to the Stryd mobile app! (There are even 25 structured workouts available if you do not have the Stryd Membership.)

You will start by selecting a workout from the workout library.

The mobile app will then guide you with workout details such as the power targets for your current workout step, the power targets for your next workout step, and a full screen power gauge to help you visualize whether you are on the right track.

You can even swipe up on the screen to see additional run data like pace and cadence in real time.

Plus, if you are a Stryd Membership subscriber, you can create your very own power-based workouts and immediately execute them on the Stryd mobile app.

Execute your first workout on the Stryd mobile app by visiting the Workout Library and selecting a workout today!
---

Redesigned Free Run Mode with New Power Zone Visuals

When you aren't in the mood for a workout, you can use the newly updated mobile app for a free run.

Free run mode is available for both indoor and outdoor runs. The top feature of this new mode is a full screen power gauge that tells you what power zone you are running in. The full screen power zone makes it easy to instantly know how hard you are running whenever you glance at your phone screen.

You can even tap the lap button to add lap markers to your activity.

After you are finished with your run, you can tap the stop button to save it.

The app will take you to the full activity breakdown so you can instantly start analyzing your data.
---
Video Walkthrough
---
Get started with this new feature
First, update to the latest version of the Stryd mobile app. This update is available immediately on Android devices and will be rolling out to iOS devices on April 8.

Available on April 8: Update to the latest version of the Stryd iOS app here >

Available Now: Update to the latest version of the Stryd Android app here >

Now, you are ready to start a run!

To start a structured workout,

1. Open up the Stryd mobile app
2. Select the 'Library' tab
3. Select a Stryd collection and then select a workout
4. Select 'Start Workout' and then select 'Tap to start'
5. Start running to each the defined power target and the workout will automatically begin

Or, follow these instructions here to start a free run >
---
Configure Advanced Settings When Running with the Stryd Mobile App

We have even added in some advanced settings so you can run the way you want with the Stryd mobile app.

There are two new configurable options.

#1: You can set a calibration factor to fine tune Stryd's pace/distance accuracy.

#2: Define how far in advance you are alerted for upcoming workout steps when you execute a workout

These settings only impact data and runs recorded with the Stryd mobile app.

You can configure these settings by opening up the Stryd Mobile App, tapping the Settings cog, and then tapping the Live Run Settings option.
---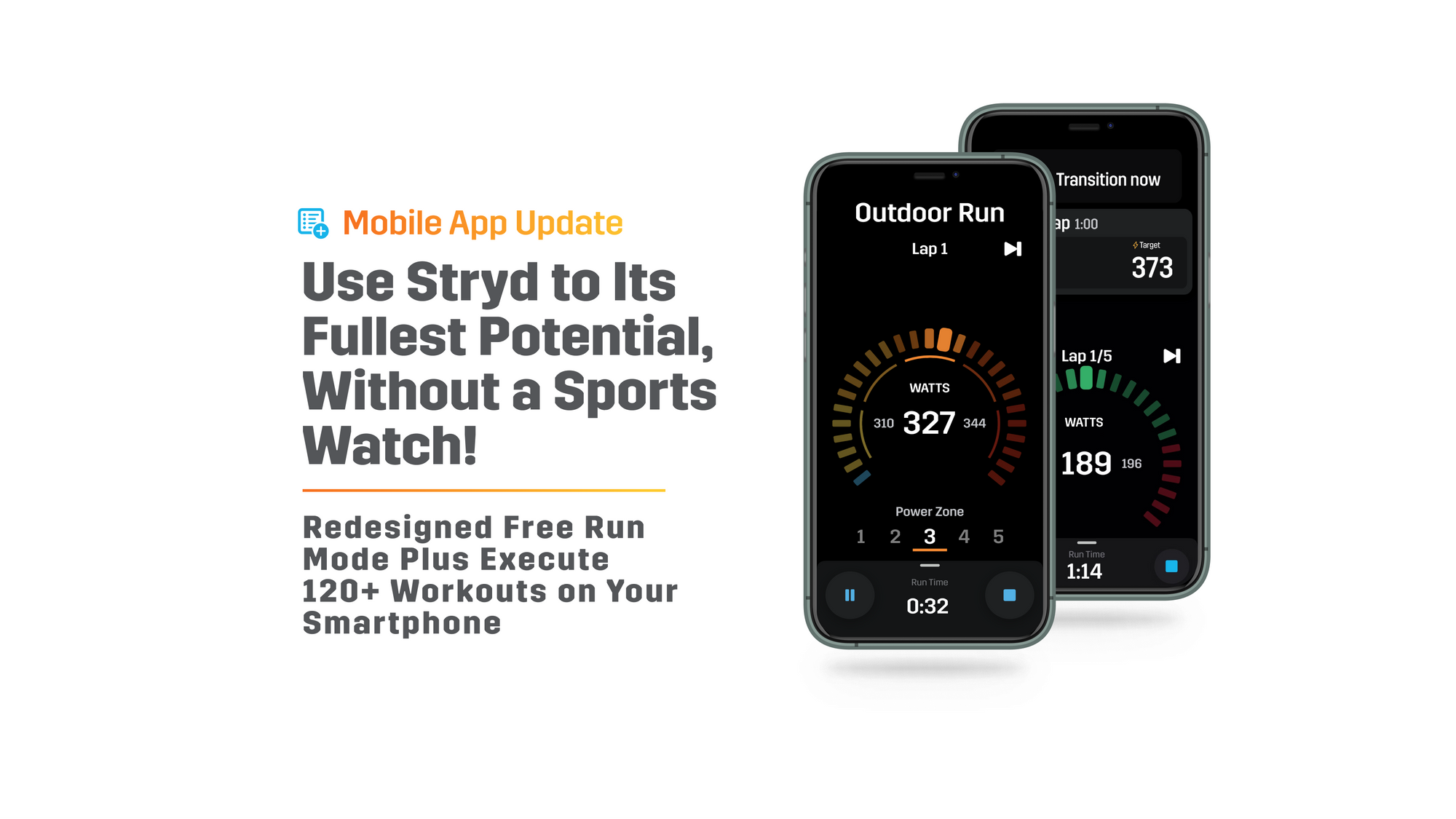 Summary

Now, all Stryders can execute structured power workouts — without the need for a compatible watch.

All you need to do is grab your phone and your Stryd pod to run.

This update makes it easier than ever to use Stryd and opens up power-based structured training to even more runners.

We can't wait to see what you accomplish with it!
---
Buy Stryd on the Stryd online store >

Join the Stryd Community on Facebook to discuss this feature release >

Upgrade to the Stryd Membership to access more features >