Easily collaborate with your coach using the new Coach's View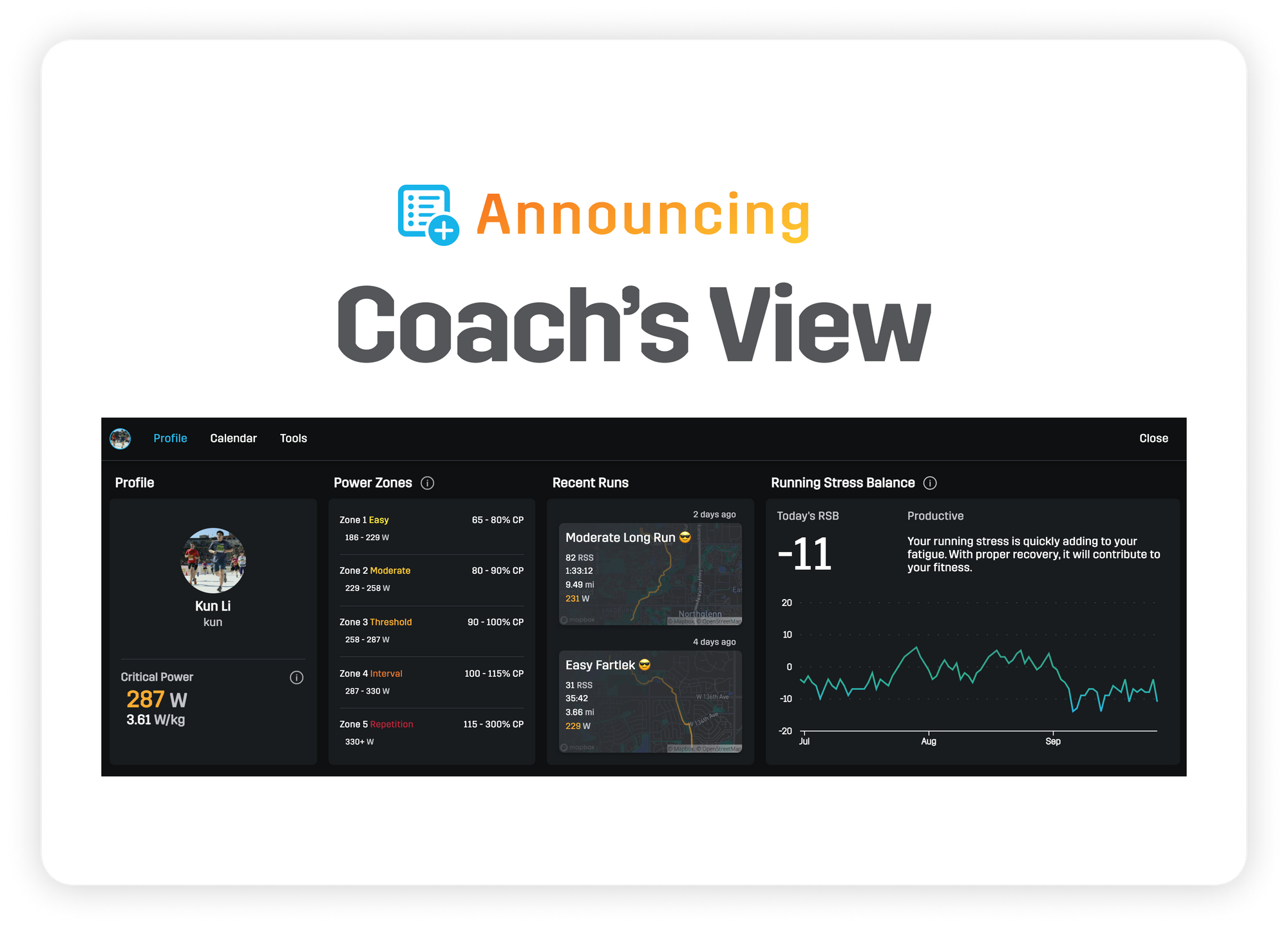 Stryd is going beyond empowering your analysis. Now, you can invite your coach to view the same stats, insights, and recommendations you're using in your training!
---

What is the Coach's View?

Coach's View enables your coach to view all the same stats, data, & insights that Stryd gives you on the Stryd PowerCenter.
---

What inspired us to build the Coach's View?

The Coach's View is an incredibly powerful collaboration tool that will empower your running by complementing your coach's training.

Bring harmony to your training, and improve your training with the power of Stryd!
---
How to access the Coach's View

Coach's View is only available on PowerCenter to certified Stryd Coaches.
Step 1: Become a Stryd Coach

Before your coach can access the Coach's View, they must already have a Stryd Coach certification or complete the Stryd Coaching course.
If your coach would like to become a Stryd Coach, they must complete the Coaching with Stryd course: https://stryd.teachable.com/p/stryd-for-coaches
Step 2: Your coach must send an invitation to view your data

1. The coach should log into their Stryd account on PowerCenter
2. If they are certified as a Stryd Coach, they will have access to an "Athlete Management" tab on the left hand side navigation. If they are not yet certified as a Stryd Coach, please refer to step 1 for instructions on how to become a Stryd Coach.
3. The coach needs to input the username associated with the athlete's Stryd account to send you an invite.
2. The athlete will receive an email saying "Your coach wants view your Stryd account. Please log into your Stryd account to approve the request."
3. The athlete can either accept the request or deny the request on PowerCenter.
5. If the invite is accepted, the coach will now be able to select the athlete account to view their PowerCenter account.