New Stryd Features! | Workout Builder & Workout Library enables you to take control of your training — with ease and speed.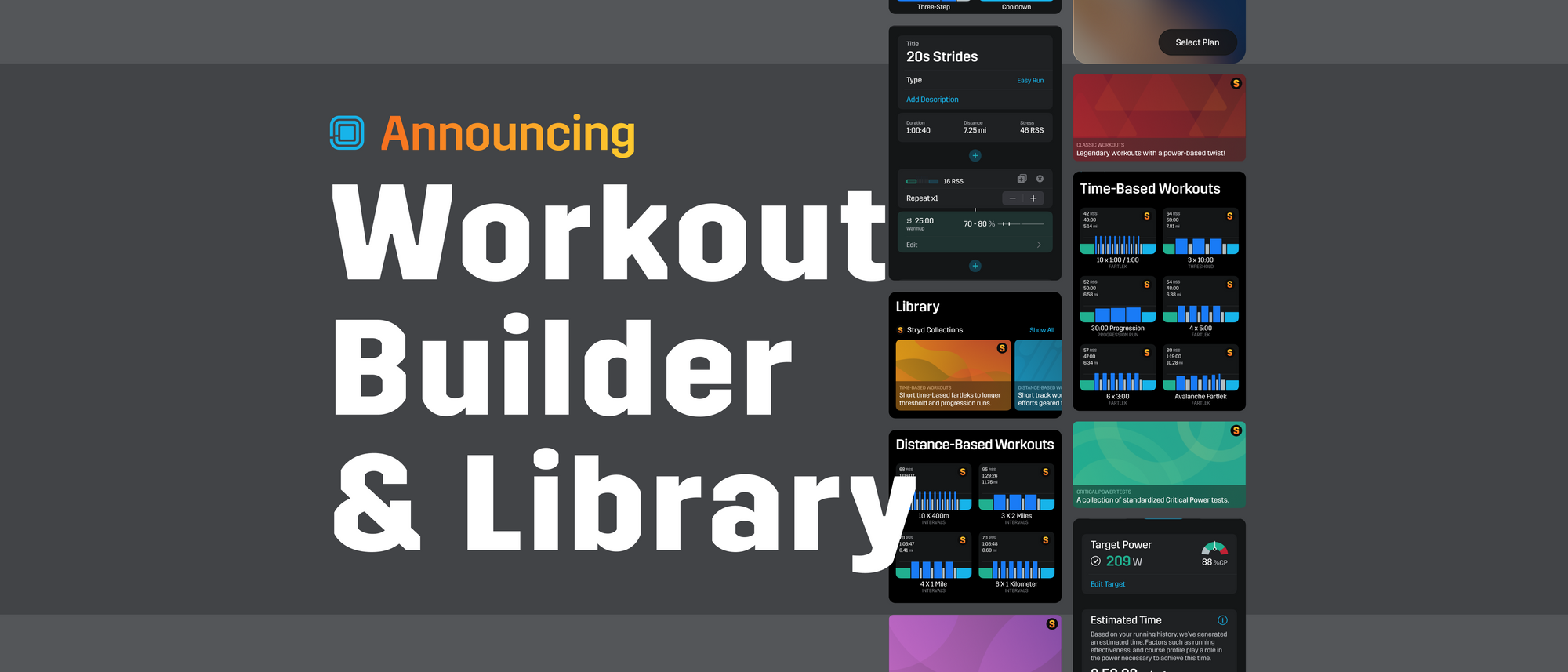 Take total control of your training — with ease and speed
Customize and build your own power-based workouts with Stryd's Workout Builder
Ease the customization of your training plan by pulling in pre-built workouts from Stryd's Workout Library, including famous past workouts from legendary coaches
The Stryd team is releasing one of the most in-depth & easy to use features we have ever built with the launch of the Stryd Membership: the Workout Builder & Workout Library.
The Stryd Workout Builder & Workout Library enables you to customize your training and makes that customization process incredibly fast and easy. Now you can take full control of your workout experience with an incredibly intuitive new interface that requires minimal steps to make your next perfect workout.
---
These pre-built workouts encompass many different categories. When you open up the Workout Library tab in the Stryd mobile app, you are immediately presented with 30+ pre-built workouts to choose from.

Read on for the three most innovative collections:
Critical Power Calibration — Keep your auto-calculated Critical Power accurate
These workouts are designed to help you best determine your auto-calculated Critical Power. The Critical Power Calibration collection consists of 5 workouts tailored to keep your auto-calculated Critical Power to be exceptionally accurate!
The 5 workouts include a 2 minutes very hard effort, 1 minute very hard effort, 20 minutes comfortably hard effort plus 30 seconds all-out, 5 minutes hard effort, and a 5k time trial. All of these workouts are completely customizable with the Workout Builder in order to suit your individual needs.
Racing isn't always something Stryders have access to, so determining an accurate Critical Power can be tough. Now, regardless of your training cycle or accessibility, you can drop one of these tests in your calendar to help you keep your auto-calculated Critical Power accurate!
---
Classic Workouts — Workouts inspired by running lore
Classic Workouts are a collection of workouts inspired by running lore. Each of these workouts will put your fitness to the test and can be a great way to add a special challenge to any training week. However, don't fear the challenge! Completion may seem daunting but these workouts are within your reach because they have been personalized to your Critical Power. Even when the later intervals of these workouts become challenging, you can trust that you're running within your limits if you stick to your power targets.
When you are in the middle of a training plan and need to add some variety or test your limits before final race preparations, you can substitute a workout from your calendar and drop one of these classic workouts in. Be measured in your use of these workouts. If you want to conquer these challenges come into it fresh and with the right attitude!
---
Collections of fundamental workouts — The foundation of any good training plan
Every great training cycle needs to start somewhere! Workout Library contains a wide array of pre-built workouts. You will have the essential workouts you need to create the foundation of any good training plan. Spanning from intervals to easy runs to long runs, you have the options you need to quickly construct your own training plan or make a few simple tweaks to your running routine.
All of these workouts come with targets based on your Critical Power & a short description to describe the purpose of the workout. When you read through the description of these pre-built workouts, you will know what you are getting out of each training session. With the personalized power-based steps, you will easily be able to accomplish that objective!
---
If you find a workout you like but need to make a few changes, you can use Stryd's Workout Builder to edit the training session.

Need to adjust the volume in the workout? It is easy. You can easily add more repeats or extend the distance of a run. Or if your body needs a break, you can just as easily take reps out and shorten the workout to tweak it to your liking.

Need to adjust the intensity of a workout? It is just as simple. You can easily edit the workout to raise or lower the intensity of your workout.
This feature adds a whole new level of personalization to your training because you can make edits to your training calendar instantly and then send that updated workout to your compatible sports watch for guided execution in real time.
---
You can even create your own workouts from scratch using the Workout Builder. If you find a workout you like online or want to try out a new idea, you can create that workout in terms of power.
We made building power-based workouts from scratch incredibly easy and fast. When you create a new workout, you can drag in pre-built workout steps in order to quickly build the workout.
For example, you can create a simple workout in seconds by selecting a Warmup, Active section, and Cool down. With just a few taps, you can add in more complex intervals and repeats. After you choose the workout structure you want, all you need to do is edit the individual workout steps to tweak the target intensities and durations of each workout segment.
Once you have created your workout, you can add it directly to your training calendar or save your new workout in the Workout Library so it is ready for execution at any time you choose.

As you continue to create and edit more workouts, you will appreciate the categorization and sorting tools in the Workout Library. You have everything you need to manage a large library of workouts. Build your favorite workouts when you have free time. They will be ready for execution when you are ready.
---
All of this functionality is available right from your Stryd mobile app (Version 7 of the Stryd iOS app & Version 8 of the Stryd Android app) when you have the Stryd Membership! Both the Stryd Android app and Stryd iOS app will be able to create, edit, and select workouts in the Workout Library and then send those workouts directly to a compatible watch (Stryd Workout App for Garmin Connect IQ 3.0+ watches & Stryd app on Apple Watch).
Every action in the Workout Builder & Library is optimized for speed & ease of use. We want Stryders to be able to focus their energy on what really matters most: the training!
If you are an existing Stryd customer, you can upgrade to the Stryd Membership on PowerCenter. Click here to learn more >>
---
Watch a video demo of the Workout Builder & Library here
---
If you are interested in learning more about the Stryd Membership or have a question about this feature, check out our knowledge base for more information. Visit the knowledge base >