New App Released: Execute power-based running workouts on your Garmin Watch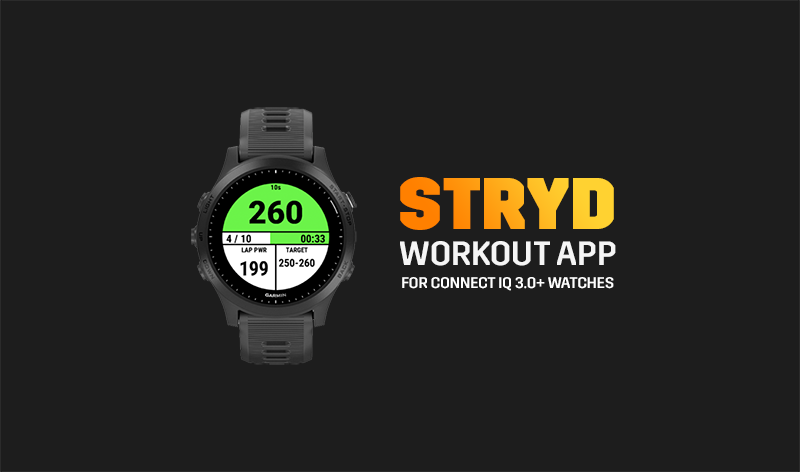 What is new?

Today, we are introducing a new Stryd app that allows you to execute power-based running workouts directly on your Garmin Connect IQ 3.0+ watch.

You are going to love it.
The early feedback on this new Stryd app has been incredible:

"Overall, great; exactly what was missing." - "Stryder" Alexandros

"That is just what I wanted!" - "Stryder" Victor

"It's a really good app. Structured power training for Garmin is here!" - "Stryder" dep

"Zone alerts nicely implemented. Keep up the good work" - "Stryder" Darren

"Ran with the app this morning and it worked great! Awesome work Stryd!" - "Stryder" Michael

"This is just a little bit exciting! Well done guys, can't wait." -  "Stryder" Tracy

"This is a game changer. Finally my watch alarms me when I am out of my power zone! Congrats Stryd. " - "Stryder" German

Stryders are raving about this app because it is a breakthrough for power-based run training.

This is the first time power-based run workout creation on the Garmin watch has ever been possible.

You can quickly create your own workouts directly in the Stryd app on the watch in minutes. Plus, the process of creating and executing power-based workouts is super easy because you don't have to fiddle with your phone and computer to make it happen.

This app is called Stryd | Workout App on Garmin's Connect IQ store and is available for download now. You can find install instructions for this app here>>

However, before you go download the app, please read the rest of this post to discover how to install the app, what watches it is compatible with, and how to use this app.
What makes this new app so great?

Here are three great features you will enjoy in the Stryd app:
1. Stay in the right zone with visual & vibrational power-based alerts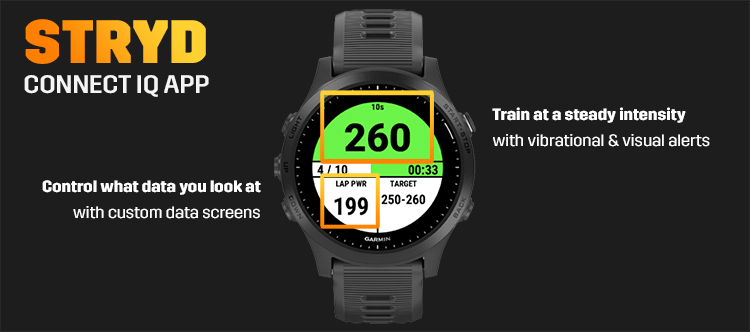 2. Execute complex workouts with single watt precision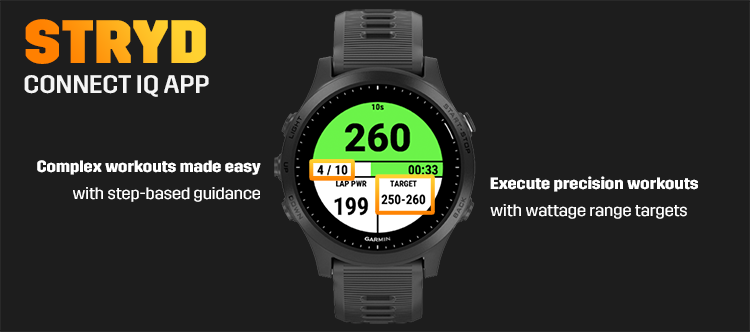 Compatible watches:
This release is an advanced & full-featured application that relies on many of the features & expanded memory capabilities offered in Garmin's Connect IQ 3.0+ compatible watches.

Right now, this app is only available on Connect IQ 3.0 watches for this reason.
Here are the Connect IQ 3.0+ compatible watches for the new Stryd app:
Fenix 5 Series & Fenix 5 Plus Series (Fenix 5, Fenix 5 Plus, Fenix 5S, Fenix 5S Plus, Fenix 5X, Fenix 5x Plus)
Fenix 6 Series (Fenix 6, Fenix 6 Pro, Fenix 6S, Fenix 6S Pro, Fenix 6X, Fenix 6x Pro)
Fenix Chronos
Forerunner 245 & Forerunner 245M
Forerunner 645 & Forerunner 645M
Forerunner 935
Forerunner 945
Marq Series (Marq Adventurer, Marq Captain, Marq Commander, Marq Driver, Marq Expedition)
Vivoactive 3 Series (Vivoactive 3, Vivoactive 3M, & Vivoactive 3M LTE)
Vivoactive 4 Series (Vivoactive 4 & Vivoactive 4S)
Venu
D2 Delta Series (D2 Delta, D2 Delta PX, D2 Delta S)
Descent MK1
How to install the app:
This app is very easy to install. You simply need to install the app to your watch using Garmin' Connect IQ and then select the app to open it up.
If you know how to install Connect IQ apps already, you can download the Stryd | Workout App from the Connect IQ store by clicking this link>>

If you need help installing the app, please see this article for full & detailed install instructions >>
Conclusion
This is a breakthrough release and a major step forward in the running power revolution because it enables "Stryders" to execute performance-enhancing power-based workouts with precision and ease on compatible Garmin watches.

Enjoy this new app & please join us in the Stryd Community on Facebook to discuss your experience with this new app release: https://www.facebook.com/groups/strydcommunity/
For the love of running,
The Stryd Team
---
FAQ
---
Question: Are these features going to come to other sports watches?

Apple Watch: Right now, the Stryd Apple Watch app is already capable of executing run power-based structured workouts. You can find a tutorial on that here: https://www.youtube.com/watch?v=TyrT0s5f2S0&list=PLhxodaVHsU5JEyulKcEBfEaG6MfnjHwud&index=4&t=0s

Previous generation Garmin watches: Due to the advanced and full featured nature of this app, we can only bring it to Connect IQ 3.0+ watches right now. However, we would like to bring a slimmed down version of this app to previous generation Garmin watches in the future.

For other sports watches: The development platforms offered by Apple & Garmin allow us to create custom applications for these watches to provide structured workout capability. We hope the new Stryd app sets the stage and creates a proof-of-concept so that run power-based structured training can be adopted by other sports watch manufacturers in the future!
---
Question: When should I use this app? Should I still use Stryd Zones or Stryd PowerRace?

Answer:

This app is most beneficial when executing a complex structured workouts.

For easy runs, long runs, and simple workouts, you can continue to use the Stryd Zones data field inside of the 'Run' mode on your watch.

For races, you should continue to use PowerRace or your Stryd Zones data field.