[Nick's Training Manual] Lesson 3: Personalize Your Training In 20 Minutes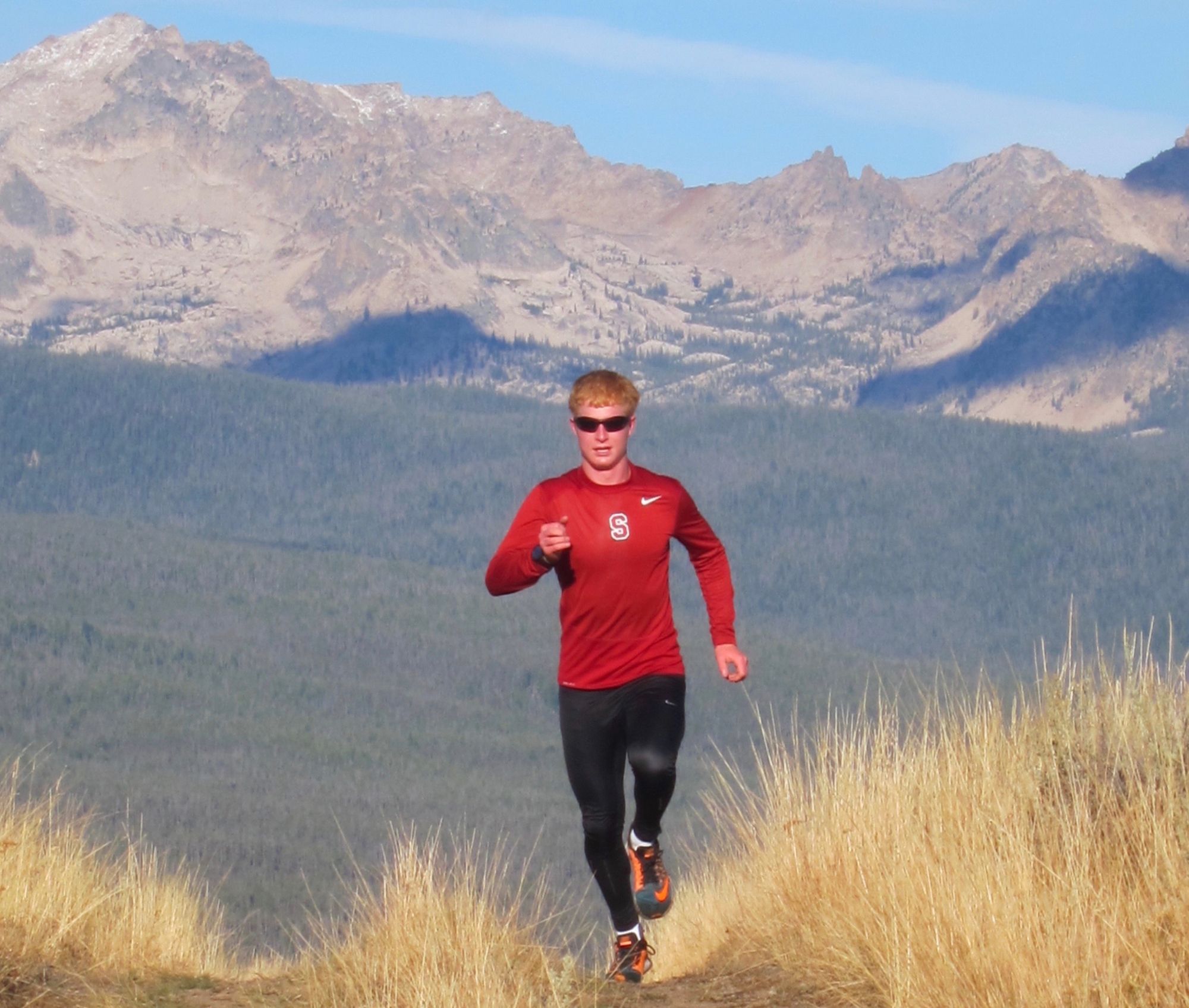 Howdy,
Today, I want to follow-up on my email from last week and tell you how to personalize your training by finding your power training zones. Finding these zones is very important. I wish I would have had the benefit of Stryd technology during my college years, as non-personalized training led to injury and a loss of my passion for running—something you never want to lose. By using Stryd's power zones (and running in the mountains around Boulder, CO), I have rediscovered my passion and become fitter than I ever was during college. So, how do we find these zones?
You are probably familiar with the term FTP (functional threshold power) or critical power. Both these terms represents the highest power that a runner can maintain for an hour.
The best way to find your critical power is to conduct a critical power test (CPT) or run in a race with an hour duration. There are a couple of different critical power test protocols that were pioneered by different coaches. Today, I'm going to tell you about the 3/6 lap test.
Here are the instructions for the 3/6 laps test protocol (with my annotations)
Warm up for 5 minutes. I do some light dynamic stretching before jumping into two to three 100-meter strides at approximately 80% maximum effort during warm up to enhance the blood circulation and ready your muscle for intense use.

800 meters easy; then, run two laps on a 400-meter track in lane one, at a conversational pace

Warm up for another 5 minutes. (here I like to add in some more dynamic stretching after the 5 minutes of easy running)

2400 meters Maximum-effort run in lane one. As was the case for the three-lap run, it is important to maintain a consistent pace during this run instead of dramatically changing pace (and effort) during the run. You should be going very hard during this effort.

Recover for 30 minutes. Throughout the 30-minute recovery period, you should run and walk slowly. You can think of this as the 30 minute period between track races, if you ran track in school. Light dynamic stretching won't hurt you here.

1200 meters Maximum-effort run. Run at a consistent pace throughout the test, but so that you are nearly exhausted at the end of the test. Give it as much effort as you can in a non-racing context.

Cool down. (I recommend a mile EASY; do not worry about your pace/power)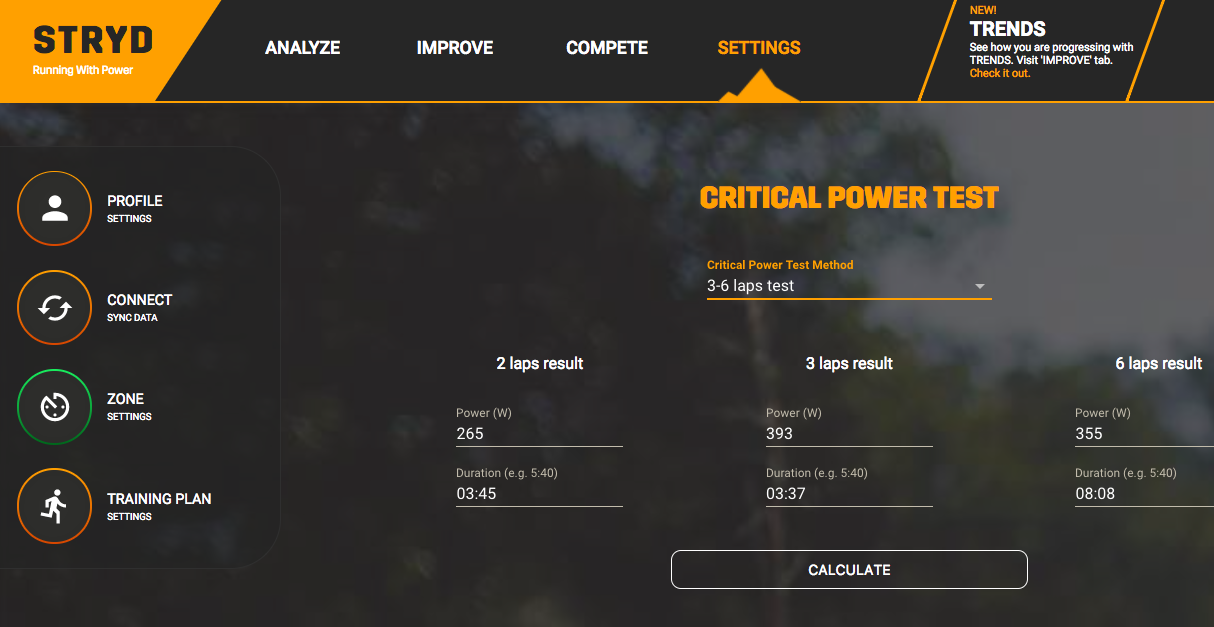 After finishing this test, I inputed my data into Stryd's PowerCenter.
Power zones
Once I conducted my CPT (or for some of you, inputed your 5k/10k times), I was able to determine my ideal training zones. Power zones are a simple tool; they are the various power intensities that you can use to plan and execute your training.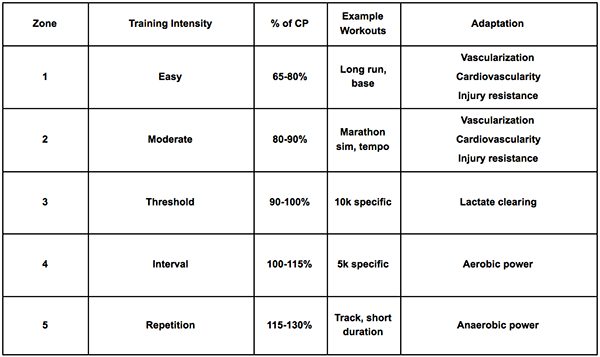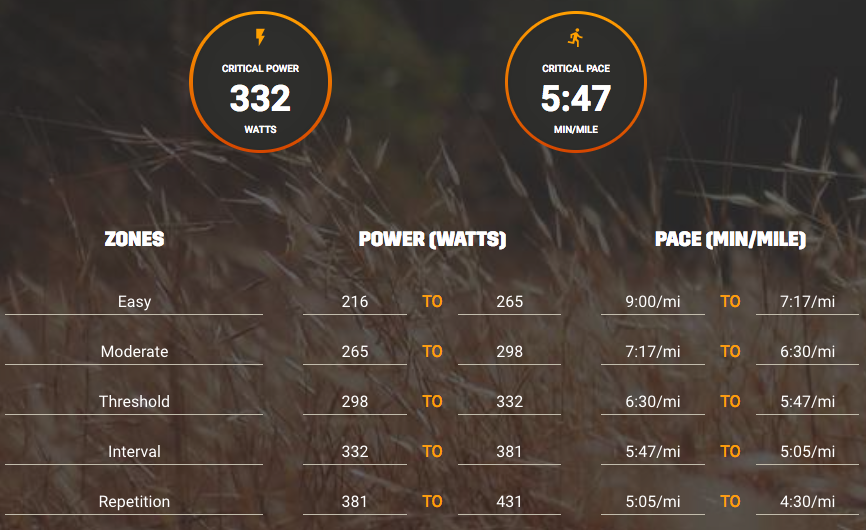 When you are training, every run should have a purpose, even if it is simply to get some time on your feet (TOF). Zone based training allows coaches and athletes to better focus each run to maximize its intended effect.
In my next post, I will discuss how to put these zones to work! I will talk about selecting a training plan and how to follow it through all of life's challenges.
Happy Training,
Nick