Training Peaks Run with Power Workout Export to Garmin Watch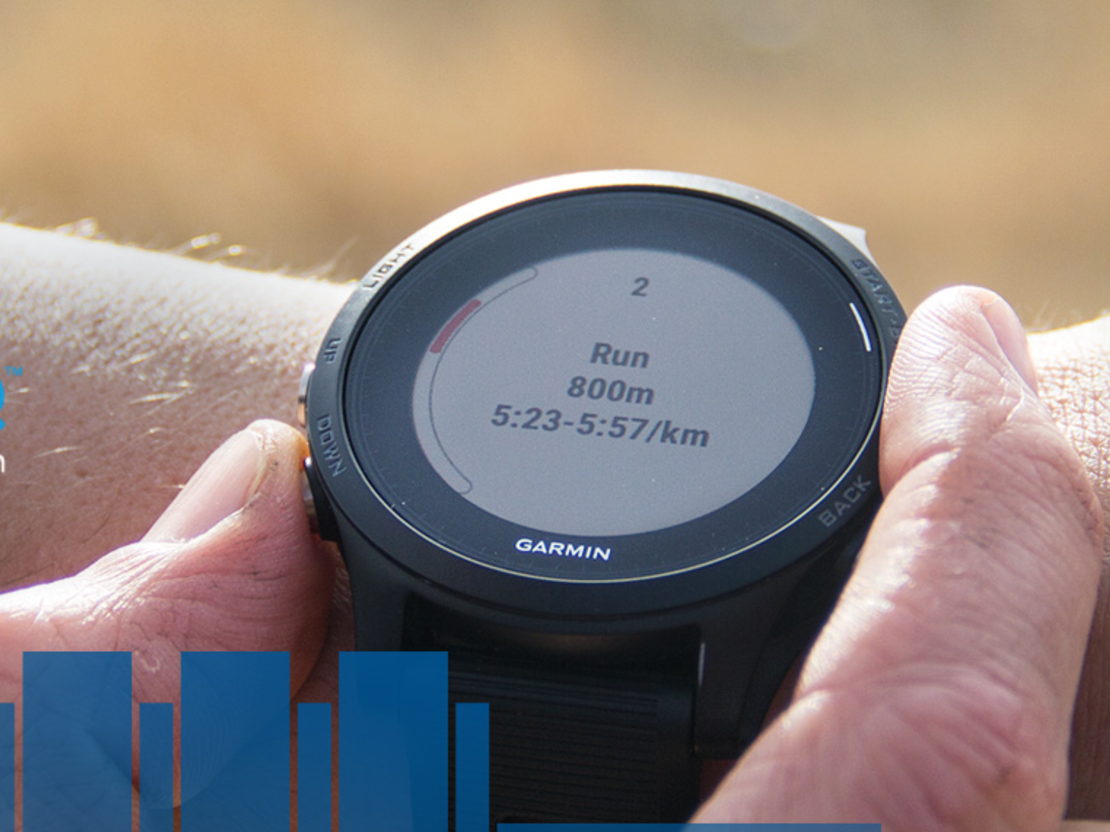 The following article was republished with permission from Peaks Coaching Group. Written by PCG Elite Coach and Stryder, Rachel Zambrano, This tutorial will take you step by step in creating a run workout with power targets, exporting the file, then importing it to a Garmin watch for use outside, or on a treadmill.
---
As of the writing of this article, there are two problems that, while this is still a viable solution, make this imperfect at best. The first issue is that the Garmin does not display power from the Stryd foot pod while viewing the workout steps during the workout. It does, however, display power from the IQ field from Stryd, so while it makes it a bit challenging, it is still usable data. The second issue is that the power zones displayed on the watch itself are much wider than the actual run power zones are. The zones on the watch reflect cycling power percentages rather than run percentages, and I suspect this may be due to a limitation with the Garmin software. The workaround for this is to target the center of the zone displayed by the watch. If you can work through these two issues while we wait for Garmin to upgrade their software to handle running with power, then continue reading through the rest of the article to find out how to write a workout and get it into your Garmin watch.
From your Training Peaks account on a computer, open a run workout. You should see something similar to the screenshot below:

Click on "Build Workout" and it will bring up a few options for you to choose as to how you want to build your workout. Select either time or distance for your intervals, but make sure that you select "% of Threshold Power" and click "Continue."

Start dragging and dropping from the blocks above with the blue squares to the line with the workout graphic on it. It's best if you play with this a while and get familiar with it before you decide exactly what kind of workout you want to write.

As you can see, you can change the variables and the percentages. I use the Zambrano Run Power Training Zones for all my workouts. They are:
Z1 (recovery) < 82%
Z2 (endurance) 82% - 88%
Z3 (tempo) 89 - 95%
Z4 (threshold) 96% - 104%
Z5 (anaerobic) >104%
Keep dragging and dropping to build your workout. Here, you can see I've inserted two step intervals and adjusted the percentage to represent low Zone 4 repeats.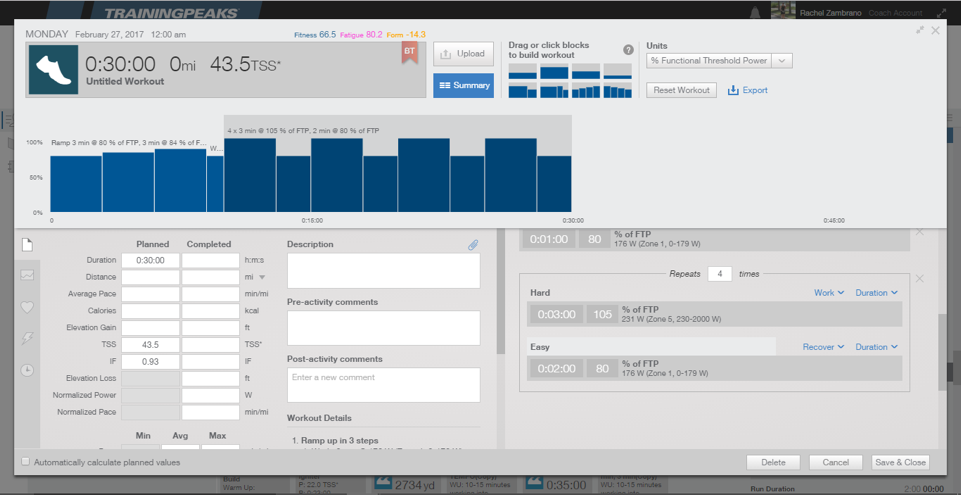 Now, I've given my workout a warm down.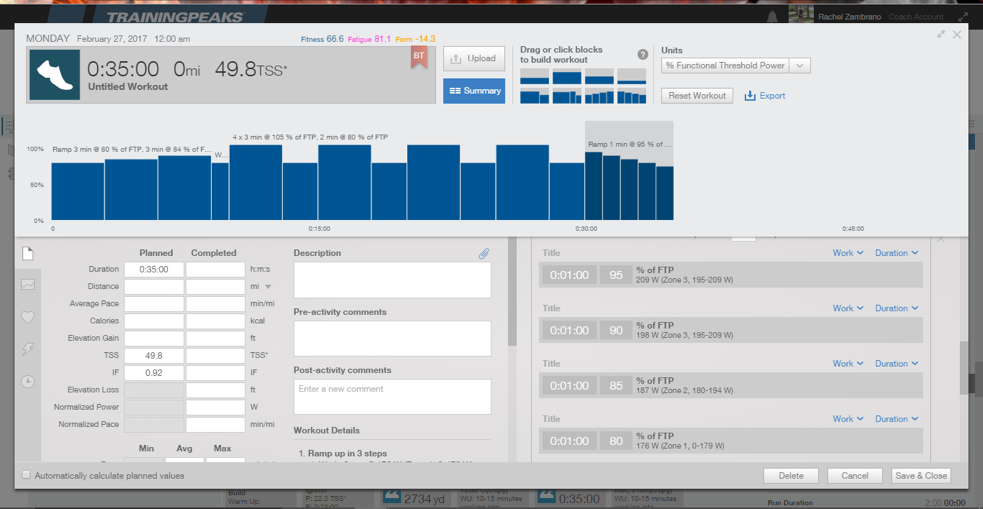 When you're done writing the workout, and you're happy with the way it looks, click "Save & Close." Then reopen the workout and you should have something similar to the screenshot below: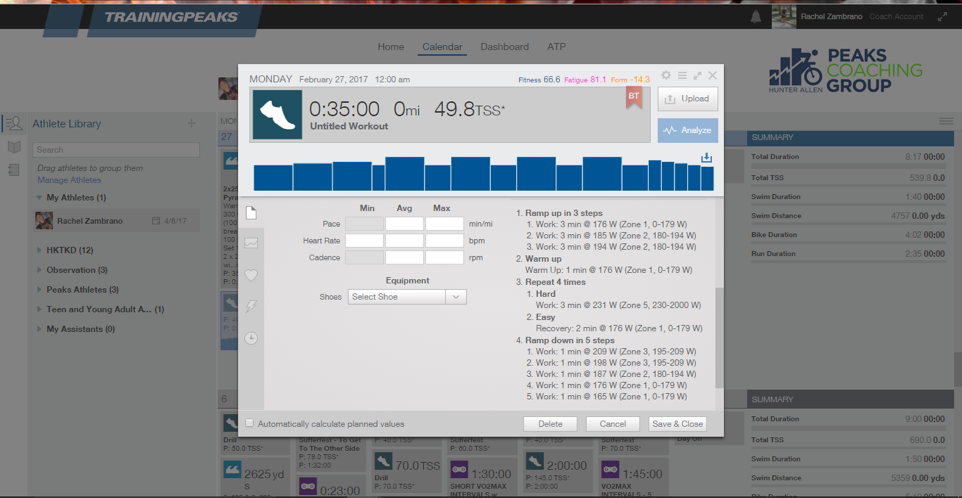 Immediately above the workout graphic, you can see the "Export Workout File" button. IMPORTANT - before you export the workout, make sure it has a name. In this case (and not on the screen shot), I named this workout "Drill."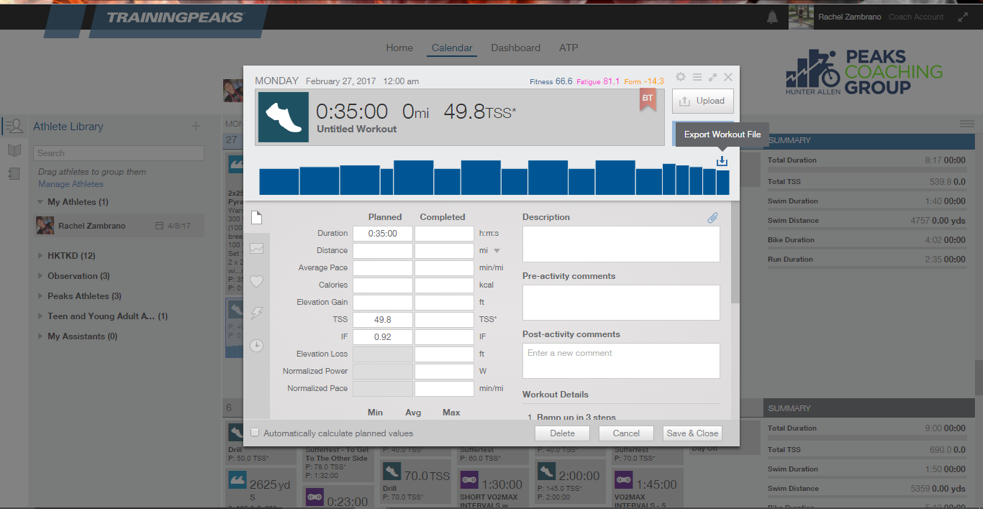 When you click the button to export your workout file, you'll be presented with the options below:
Since we're transferring this file to a Garmin watch, you'll need a .FIT file. Garmin has a link here where you can get some additional help beyond the scope of this article, but once you click the .FIT button, you'll have a file download to your computer.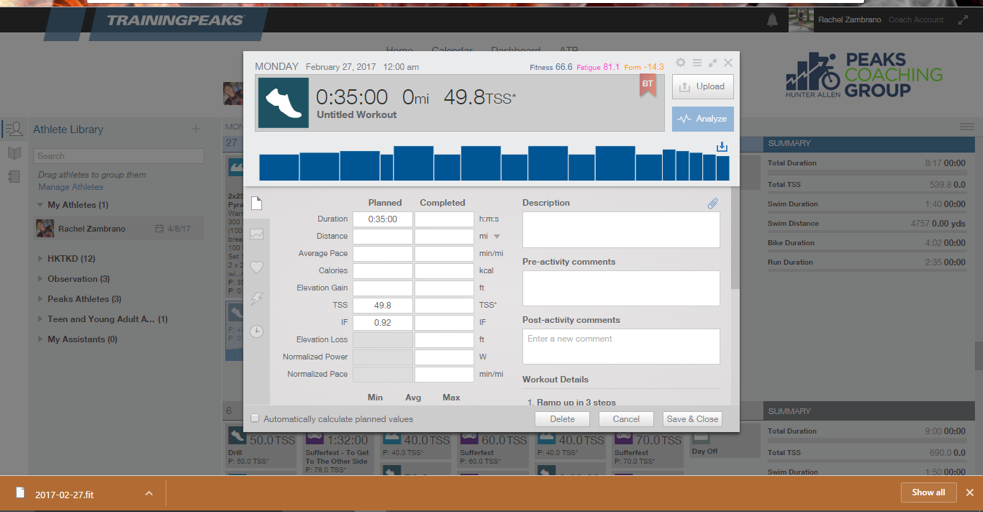 Leave your screen the way it is and plug your watch into the computer. You won't need to open Garmin Express just yet. When the watch is plugged in, open your file explorer and navigate to the following pathway within your watch (see the address bar in the picture below):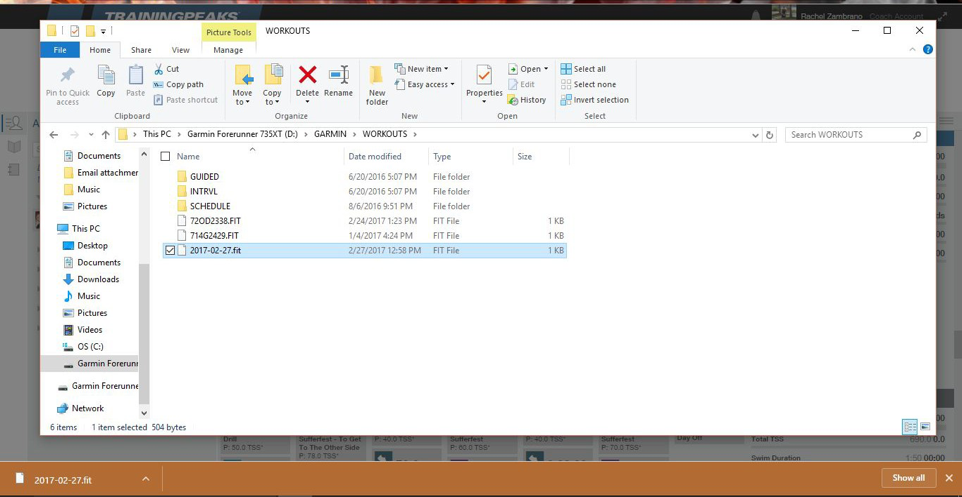 Hover your mouse over the file at the bottom of the screen on your computer, grab it and copy it into the folder you see above. If you know how, you can simply drag and drop it into the file explorer window. When the file is done being moved or copied, leave your watch plugged in and open Garmin Express.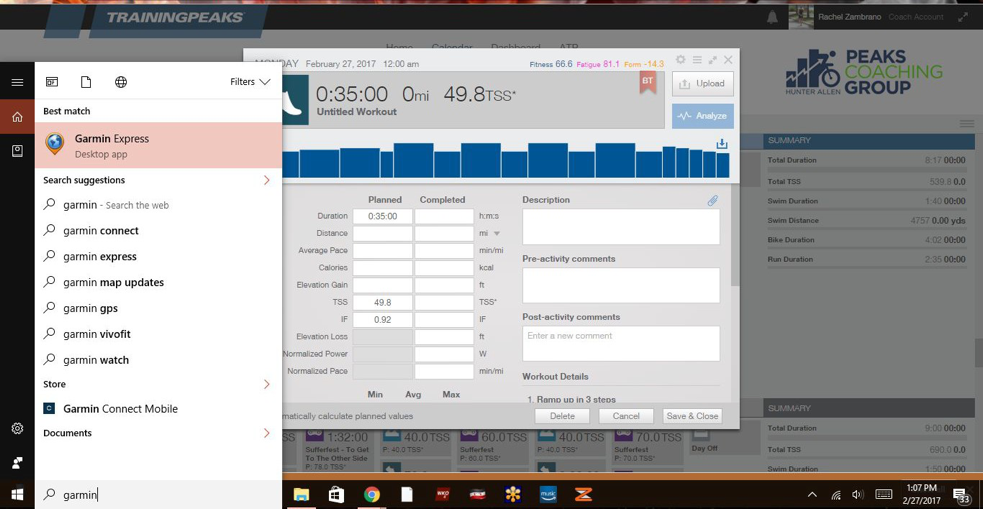 Make sure your watch says that you're up to date.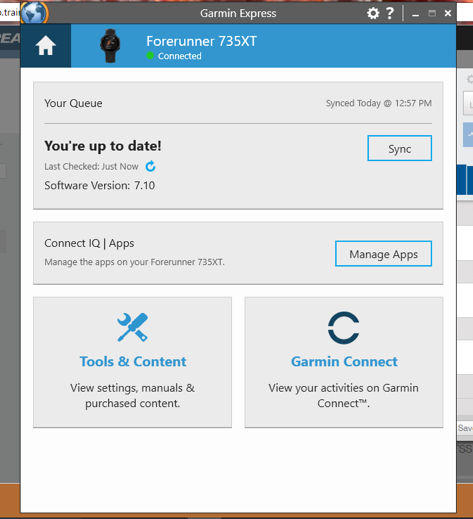 At this point, you can eject your watch from the computer, and you should see your watch updating: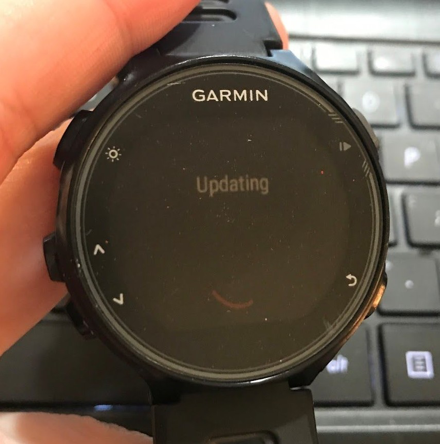 Before you select your workout, you'll need to select your activity. Make sure you're in "Run" or "Run Inside" mode on the watch. Once that's done, go to your menu and select "Training."
Go to "My Workouts."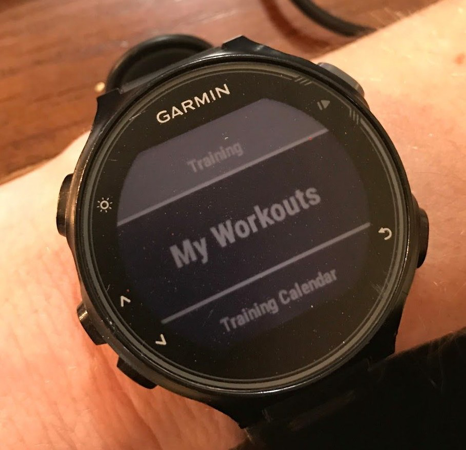 Select "Running."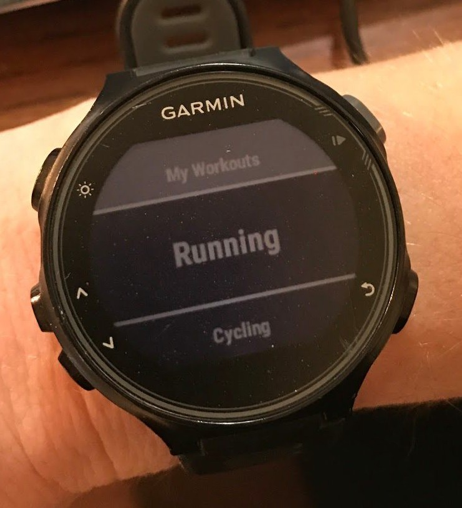 Then, choose your workout, in this case, I named it "Drill."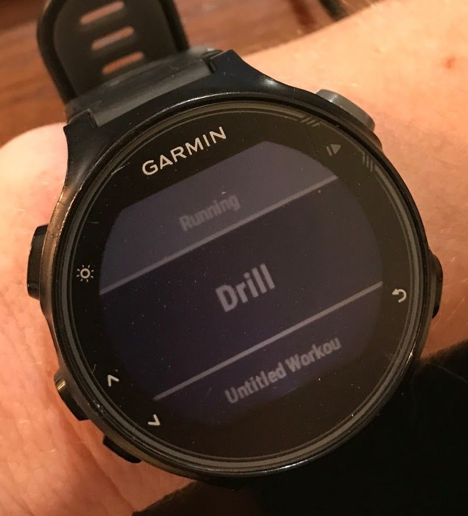 Then, get ready to start.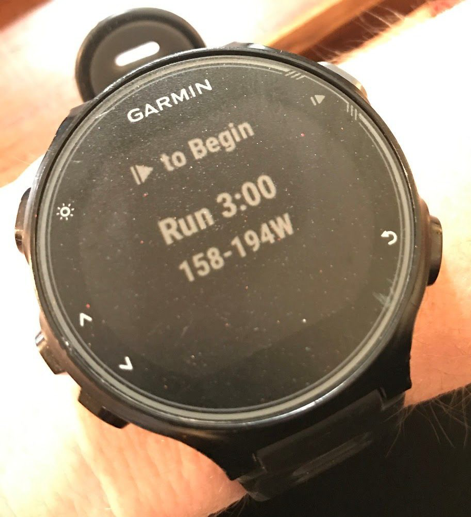 Remember, in order to make this work, you'll need to target the center of the power zone displayed. In this case, 176 watts (if you go back and check, you'll see that was the original power in the first step of the workout). If you want to share this file with others, and have it share the proper way to change targets so it is appropriate for other athletes' power zones, you'll need to share the file from within Training Peaks itself.
Want to export the workout file to another program or computer than a Garmin? Use this link to help you get there!