Watts That Won: Chris Turner uses Stryd power meter to PR in London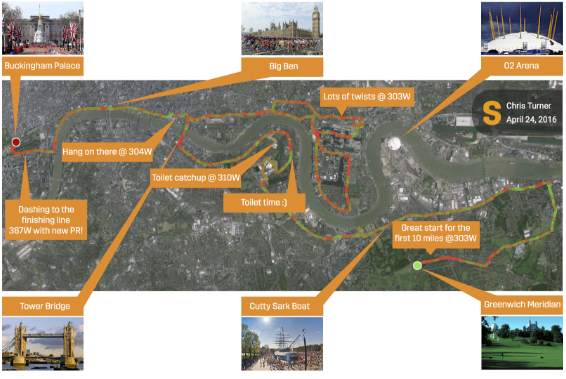 Recently, London-based runner Chris Turner shared with us his experience using the Stryd power meter to prepare for the 2016 London marathon. He raced a PR on the day.


Chris is a self-coached runner and made the transition from using heart rate zones for training to power zones in his preparation for the marathon.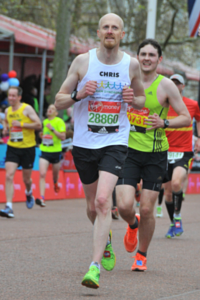 From being familiar with his power output, Chris commented he was able to pace himself better, hold back the race adrenaline and not go out too fast. This allowed him to hold his pace until the end of the race.
Using Stryd data in his training gave him a new level of confidence on race day. He knew he could sustain the power. That alone is a win!
Race Stats
Race: London Marathon 2016
Time: PR 2:59:34
Training Schedule: 18 week plan based on power zones
Race Stats:
Average power: 307 watts
Average pace: 4:09/km 6:40/mile
Average hr: 169.5
Average cadence: 93.5
5k splits: 20:54, 21:22, 21:19, 21:46 (including 33 seconds toilet stop), 21:02, 21:07, 21:26, 21:29
Meet Chris
Chris is a self-coached athlete from the UK who took up running seriously four year ago. He has raced two marathons, eight half marathons, and also does track, triathlon and biking as well as the occasional cross country race.
Before introducing power zones to his training regimen, the biggest improvement Chris has seen in his performance came from increasing his average cadence to 185-90/minute.
From Heart Rate Zones to Power Zones
Even as a recreational runner, Chris always used data to train with and is a self-confessed goal-oriented person. From early on he committed to tracking his vital running stats using Strava, a heart rate monitor and cadence.
Chris was already familiar with power-based training zones from biking and saw it as a natural progression to apply it to running.
Tweaking Power Zones
With his Stryd meter, Chris started by taking the Critical Power Test and translated those results over to his heart rate zones. The Critical Power Test allows athletes to determine their own
personalized power-based training intensity zones
Chris emphasized the importance of 'just running' with the power meter in the first instance to get some raw data into the Power Center. Chris used the side-by-side data to see the correlation between heart rate and his power numbers.
Right away, he saw an obvious correlation between power and perceived effort. His threshold and interval zones lined up well with his corresponding heart rate zones. Through trial and error he adjusted his lower level zones based on his own physiology. He is already aware that his recovery run pace is slightly higher than most.
From Test Runs to Training Only with Power
After setting his power zones and training simultaneously with heart rate and power for a few weeks, Chris went cold turkey and switched off all other training data except power.
Over the eighteen weeks of marathon training, Chris began to notice distinct benefits. It became easier to accommodate hills in training, keeping the power under control on the uphill and pushing on the downhill. He noticed each training zone also became easier over time.
Interpreting the Data
Chris used the Stryd Power Center and synced the data with Training Peaks with his other metrics: heart rate, vertical oscillation, pace, and cadence.
As the data set grew he was able to identify where he was 'off', why that might be, and how to improve. This was particularly relevant on hills.
He also observed a link between vertical oscillation and pace. He is still deciding what that might mean!
Race Recap
We'll hand over to Chris give you his account of race day. The joy Chris shares in reaching his goal is inspiring and gives food for thought on how you can use power for your next PR attempt.
London Marathon Race Recap by Chris Turner
The Stryd has been invaluable to me during training, especially in ensuring that my easy runs were easy enough and my harder runs were at the correct intensity.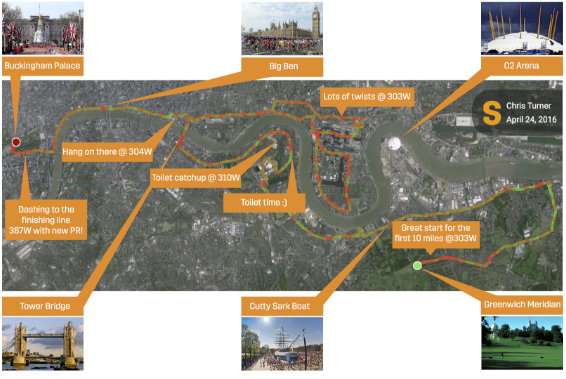 For the actual race I started off using power as my primary metric to control effort, not wanting to get carried away in the excitement of the event and head out too fast. I used the Stryd to target 300 watts for the first part of the race (my current CP is 343w) and managed to hit this pretty closely with an average of 303w (4:10/km 6:42/mile) for the first 16k/10 miles. Unfortunately at 16k I had to make use of the toilet facilities (I think I probably drank just a bit too much during pre-race hydration) and lost about 30 seconds in the process. This was however the correct decision as it made the rest of the race more comfortable and allowed me to focus on running and pacing rather than how much I needed to pee!

Having fallen a bit behind schedule I took the gamble of trying to push a little harder to catch up and then stay with the sub-3 group. I pushed average power up to around 310 watts and went through half way in 1:29:54. Knowing that if I could maintain that output and not needing to stop again I knew I'd have some time to spare.

From half way it was really difficult to rely solely on power for pacing. This bit of the London course is a bit narrow with lots of twists and turns. At this point all I was really doing was sticking in the sub-3 pack and using power to avoid getting too carried away. Over this mid part of the race I was able to average 314 watts (4:05/km 6:35/mile).

With about 8 km/5 miles to go things started to get tough. At this point any sort of running to power went out the window. It was just a matter of holding the current pace, digging deep and keep ploughing on. Fortunately the last few miles of the London course has the most amazing spectators. There's a constant wall of cheering and Big Ben in front of you signaling the last few hundred meters to the finish.

I dug really deep for the last 3 km/2 miles managing to hold 307 watts (4:11/km 6:44/mile) and trying to pick up the pace a fraction towards the finish. I crossed the line with a chip time of 2:59:34 and a gun time of 2:59:49. Excluding the toilet stop, splits were pretty even at 1:29:20 for the first half and 1:29:40 for the second.
Although pacing using power fell away towards the end of the race, I think those first 10 miles using the Stryd to control effort really made it possible for me to keep the pace going right to the end.