'Run with Power' by Jim Vance, Velo Press 2016

Introductory Guide to Running with Power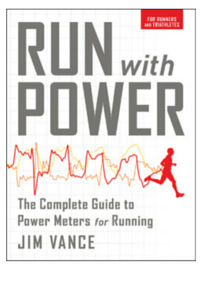 Velo Press, based in Boulder, Co. has just released the first comprehensive guide to the concept of using power meters for running in collaboration with coach/author Jim Vance.
'Run with Power' is a introduction to the power-based training, a concept long familiar with cyclists and now - as we know at Stryd - ready to revolutionize the way runners train.
Tri coach and author Jim Vance outlines how to interpret the data gathered from your Stryd running power meter in order to be able to establish personal power training zones.
Importantly, Vance also shares how to compare wattage, heart rate, pace and perceived exertion to get maximum insight into your training so you can train smarter and more efficiently with your training load and time.
Includes Training Plans for Power-Based Training
On a practical level, the book also features a series of training plans with the goal of helping those new power-based training.
The plans cover 5k, 10k, half-marathon and marathon distances with options for time goals.
About Author Jim Vance
Jim Vance is a TrainingBible coach and former professional triathlete. He recorded two world championship titles as an amateur in XTERRA and International Triathlon Union.

He has coached national champions and world championship podium finishers, both amateurs and elites. Jim has twice been named the USA elite head coach at the duathlon world championships.

Jim currently resides in San Diego with his wife and two young sons.
Concepts Covered in 'Run with Power'
3/9 Test, 30-minute Time Trial Test, Running Functional Threshold Power (rFTPw), Running Functional Threshold Pace (rFTPa), Averaged and Normalized Power (NP), Intensity Factor (IF), Peak Power, Variability Index, Efficiency Index (EI), speed per watt, Vance's Power Zones for Running, Training Stress Score (TSS), and Periodization with Power.

The book includes 6 testing methods and 8 power-based training schedules and workouts for 5K, 10K, half-marathon, and marathon.

Knowledge is power, and understanding your power numbers is your next step!