Building the Stryd hardware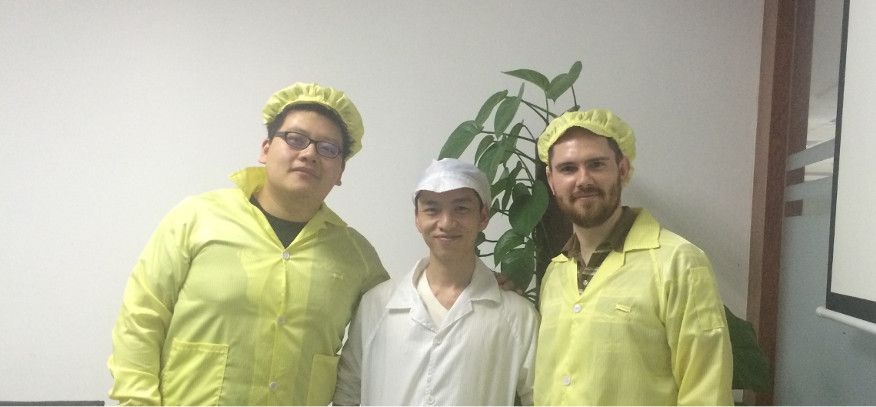 Dear Backers,
It's getting hot and humid for our engineers – in Boulder? No. In Shenzhen, a city in southern China, where the Stryd hardware is being manufactured.
Shenzhen is an amazing city: a global electronics manufacturing hub. Every day, millions of electronics products are made there and distributed around the world. Stryd engineers and co-founders, Jamie and Kun, have been living in Shenzhen for over a month. They spend their days working with over ten different partners helping us produce different parts of the Stryd hardware, and their nights synchronizing with our Boulder headquarters. Their work is paying off: the first testing batch of Stryd devices has been manufactured and is undergoing FCC and CE wireless communication tests.
Yes, we are on track!

(1) Kun and Jamie with the circuit board production partner. (2) Kun at the assembly partner's factory. (3) Assembly factory warehouse. (4) Daniel, owner of packaging manufacturer.
Amazing cities have amazing people. Since we started developing Stryd, we have received a tremendous amount help from our supply chain and manufacturing partners – they are energetic, professional, and extremely hard working.
Today, we introduce Daniel – the owner of a paper packaging manufacturer company, an athlete, and a Wall Street expatriate. Daniel studied in the US and worked on Wall Street for years, and then quit his job and founded a manufacturing company. When we first met Daniel in Shenzhen, I asked "Why did you quit Wall Street". Daniel said, "I love what I am doing because I am building things for real". We feel the same way. Daniel and his designer from New York are amazing – the average turn around time for package design revision has been a day.
When you try to build something great, you meet amazing people!