50% off: 'Maximize Performance Gains Through Effective Power Metering' eBook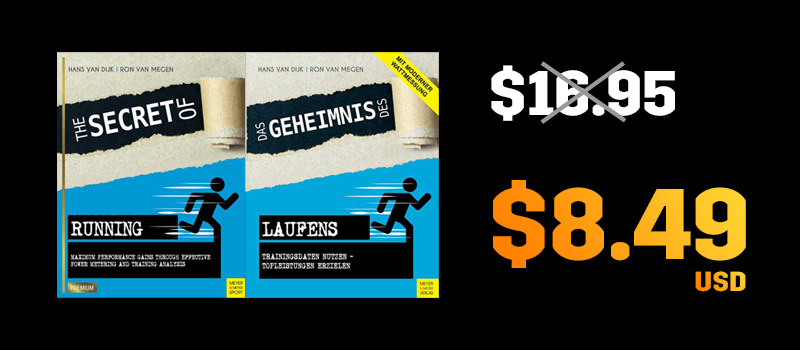 Limited Time Offer
50% off 'The Secret of Running' eBook
Until April 30, we are offering The Secret of Running eBook for only $8.49 USD. This is 50% off the full purchase price.

Written by Dutch researchers and authors, Hans van Dijk and Ron van Megen, The Secret of Running goes in-depth on how to maximize performance gains through effective run power metering and training analysis.

This book answers question such as:

- How much power does your human engine have?
- How much power do you need for running in different conditions?
- How can you optimize your training and racing performance?
- How can you use power meters to improve your results?
- What are the ultimate limits of human performance?

You will learn all the factors determining your running performance (from an 800-meter race to marathon). These factors are explained step-by-step in terms of training, nutrition, body weight, running form, wind, hills, temperature, running gear, power meters and much more. Written in a crystal-clear and lively style, this book is a wealth of information for every ambitious runner. This title also contains brand new insights on how the balance of the power of your human engine and the power requirement for running in different conditions determines your performance. It shows how power meters can be used to optimize your training, running economy and race results. This book is lavishly illustrated and packed with useful data.

The training guidance provided by this book is especially applicable to Stryders since nearly all of the data and conclusions in the book is based on real life Stryd data!
---
Please use the links below to either order the English version of the book or the German version of the book. These are the only two languages that the book is offered in right now.

Once you place your order, your eBook purchase will be delivered digitally to you. You will receive an email with a link to download the eBook in .ePub format.

You will be able to open this eBook easily on any device you own such as:

- your computer via any standard ePub reader
- iPad, iPhone, and OSX via the Books app on your device
- Android phone/tablet via Google Play Books or any standard ePub reader

This eBook can also be transferred between these device for easy multi-device reading.

This 50% off special offer is only available until the end of the month, so do not delay!

Click here to purchase the English version for $8.49 USD

Click here to purchase the German version for $8.49 USD