Watts That Won: Joe Gray Defends His World Title at the Xterra Trail Running World Championships
Joe Gray went into the Xterra World Trail Running Championships with one goal: Defending his world title. If he did, it would cap off a year of undefeated racing on the trails, mountains, and the cross country course.
Watts That Won = 344
Prepare with Purpose
If you've read other Watts That Won stories, you already know Joe Gray is a world class runner. And he knows exactly what he is capable of running on race day because he trains with Stryd every day.
Coming off of a solid training block after the Pacific Northwest Cross Country Championships, Joe felt that he was getting even fitter. He believed that his max wattage number for 13.1 miles was increasing. His Stryd Powercenter data confirmed his suspicion. He put his target at 340 watts for the race.
Running 13.1 miles with 2700+ elevation gain is no easy task. After a week of Hawaii-style flash flood rains, the course wasn't exactly in tip top shape. To make things more interesting, the athletes were not allowed to run the course ahead of time. The course is laid out on a private ranch that is closed to the athletes on race day. Joe was going to have to rely on his experience and grit to come out victorious.
While he didn't get to run the course ahead of time, Joe did know the guys he was racing. He believed, based on his fitness, if he had a good day, he was capable of defending his title and setting the course record. "I didn't have any excuses," he said, "Stryd told me the wattage I am physically capable of holding for 70-80 minutes, and I was going to use that to my advantage."
The World Championship
After the gun went off, Joe fell in with the lead pack for the first couple of miles, careful to maintain his footing on the muddy, slick course. He was holding between 330 and 340 watts, and it felt easy. He could hold this pace all day.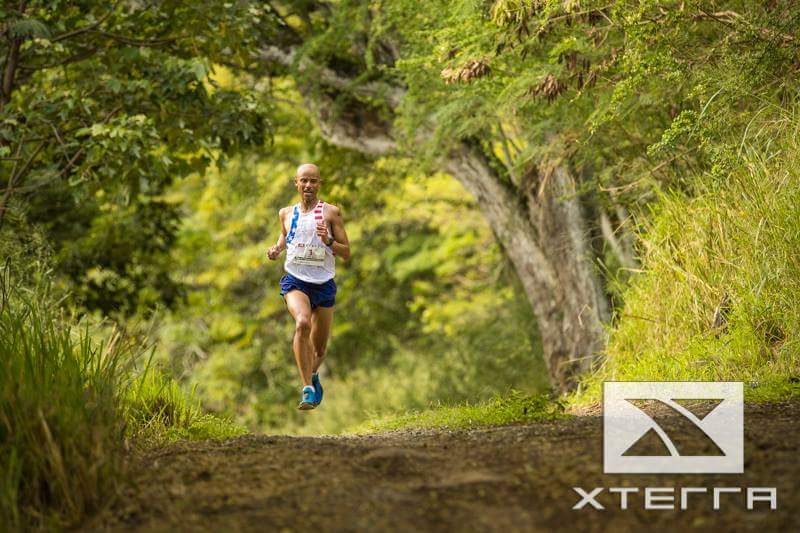 After 3 miles, it was clear it was going to be a two-horse race between him and Andy Wacker, the 2015 US Trail 50k Champion and a two-time NCAA XC All-American. Joe surged to 370 watts and began to gap Andy. By the 7th mile, Joe was running a one man race, and stayed at his goal wattage of 340, careful not to fall on the steep muddy sections of the race. The only obstacle that remained was a new section of course that was different than any previous years Joe had run at the Xterra World Championships. The course had changed one section from relatively easy descent to a section of steep, slick mud, which Joe described more or less as a vertical slip and slide.
Joe had a decent amount of cushion, so he was able to take time through the section and make the run to the finish line.
Joe finished in 1:18:26 (05:53 pace with 2700 feet of elevation gain), a new course record, a successful defense of his world title, and a perfect way to cap off an undefeated season.
Wacker faded to third behind Sage Canaday, the 2013 USAT 100k champion. Canaday (Boulder), Wacker (Boulder), and Gray (Colorado Springs) all train in the Colorado Front Range.
What's next for Joe?
After a perfect season, Joe plans to spend some time with family during the holiday season. Then, he will gear up for a January cross country race in Italy.
Follow Joe on Facebook, and join the conversation in the Stryd Community page.
Photos, courtesy of Xterra