Watts That Won: Joe Gray Wins Pikes Peak
World domination: the single goal of Joe Gray. He is taking it one peak at a time. He repeated as the Pikes Peak champion on Saturday. Enter the mind of Joe Gray and find the watts that powered him to the victory.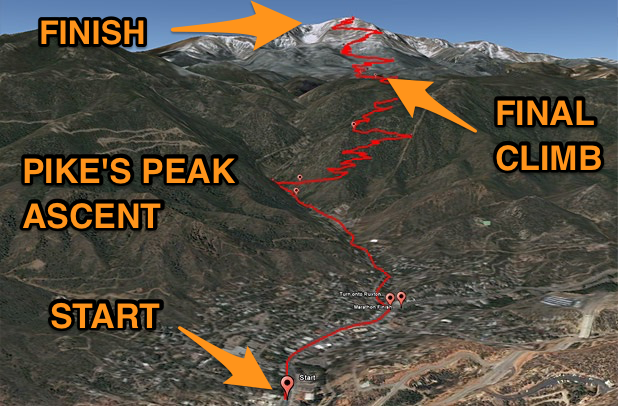 Run 13.32 miles. Gain 7,815 feet. Follow your wattage. Repeat as champion.
Watts That Won = 345
Joe had a simple game plan for Saturday. He wanted to push the pace early to put his competitors in the tank. Then, he would leverage his superior climbing ability to push the final climb to bury his competitors and win the race. It was the perfect plan, but there was one question: how many watts could he afford to push at the start?
Joe needed a precise wattage that would allow him to push the pace but leave him enough energy to win at the end. There was no room for error. The course would be extra challenging and more dynamic this year because of recent erosion. Joe needed power to manage his intensity on climbs and dips on the trail. If he could manage his pacing with Stryd, he knew he was bound for a victory.
Find Your Capability
Joe went to the power data to figure out his exact target. The power heat map was the perfect tool for Joe. It tells Joe the maximum power he can hold over a certain time period which is a direct correlation to his current capability. He ran the course last year and knew he would finish in around 2 hours. He looked at his power heat map on the PowerCenter and found his 2 hour power. It came in around 330 watts. Joe felt that his recent fitness had improved and he could push more wattage. He referenced the Stryd Trends features to see his recent training and fitness and figured he could push his target 15 more watts. Joe upped his target and set his average wattage target at 345 watts.
Fit Power To Your Strategy
Now, Joe needed to tailor his ability to his strategy. How much could Joe push the first section and final climb? Joe had recently competed against elite competition at the National Championships in a fast race. He pushed 370 watts that day and knew he would need to run that fast to get in the competition's head at Pikes Peak. But, he remembered he needed to average 345 watts over the whole race. Joe did some quick math and figured he could do 310 watts on the final climb. Perfect. Joe had his race plan. He would run 370 watts at the start. 345 watts in the middle. Then, he would climb at 310 watts to reach the finish. Total average power? 345.
Follow The Plan On Race Day
Joe hit the course on Saturday and relentlessly executed on his power targets. As the reigning king of the course, Joe set the pace using the PowerRace app with a steady 370 watts and his competition stuck with him. His power plan was working. His competition was tiring. He held this until the middle of the race and then dropped down to his goal of 345 watts. The competition started to drop back as Joe built his lead. He used his strength on the final climb for a sizeable victory. Joe paced to the plan and won.
Next Steps
Joe accumulated a Run Stress Score of 191 during his Pike's Peak victory. He took the first part of the week to recover from the stressful session and worked in some easy runs later in the week. He is back to his normal training schedule now.
Joe is preparing for his next race in Austria. He will compete on a relay team of a mountain runner, a mountain biker, a rower, and a paraglider. His goal is to get his team an early lead on the run portion so they can break away for a big victory.
Want to learn more? Visit STRYD.com and watch the video at the top of the page.
Want to discuss? Visit the Stryd Community to learn from fellow Stryders.
Want more updates? Put your email address in below to stay updated on the Journey of Joe Gray!